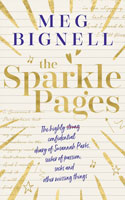 The Sparkle Pages, the debut novel by Meg Bignell, is about a woman's mission to reignite the passion in her marriage - and rediscover herself.
The summary says: "'Is marriage just a series of texts about where the children are and whether we need milk until one of you dies?'
Susannah Parks - wife, mother, cleaner of surfaces and runner of household - is a viola virtuoso. Except she hasn't picked up a viola for over a decade. She has, however, picked up a lot of Lego, socks, wet towels and other exhibits of mundanity.
She has also picked up on the possibility that her husband has lost interest in her. (And frankly, she's not very interested in Susannah Parks either.) But this year, she has resolved to be very interesting. Also thoughtful, useful, cheerful, relevant, self-sufficient, stylish, alluring and intelligent.
In her highly confidential diary, Susannah documents the search for the elusive spark in her marriage, along with all the high and low notes of life with her four beloved children, with her free-spirited (and world famous) best friend Ria, and with Hugh, the man who fills her heart with burning passion and her washing pile with shirts.
And perhaps amid the chaos she might be brave enough to find the missing pieces of herself." The Sparkle Pages is out in April 2019.
TEXT