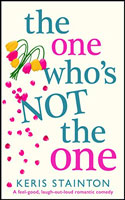 The One Who's Not the One, by Keris Stainton, is about love, break-ups and finding out who you really are.
The summary says: "Cat's life has hit a brick wall. Since she broke up with her ex Sam five years ago she's quit stand-up comedy, landed in a steady but dull job, and lives in a tiny flat with roommates she knows only as The One Who Eats All My Food and The One Who Has Really Loud Sex.
Cat, by contrast, is vividly aware that she hasn't had sex for over two years. So when she bumps into old friend Harvey and sparks fly, Cat is surprised. The more time she spends with Harvey, the more their chemistry grows - but Cat knows she has to ignore her feelings.
Because Harvey is Sam's brother, and so absolutely, 100% off-limits romantically. If only Cat didn't keep forgetting that..." The One Who's Not the One is out in February 2019.
TEXT