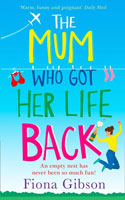 The Mum Who Got Her Life Back, by Fiona Gibson, is about a single mum who was planning on having some time to herself again.
The summary says: "When her 18-year-old twins leave for university, single mum Nadia's life changes in ways she never expected: her Glasgow flat feels suddenly huge, laundry doesn't take up half her week, and she no longer has to buy 'the Big Milk'.
After almost two decades of putting everyone else first, Nadia is finally taking care of herself. And with a budding romance with new boyfriend Jack, she's never felt more alive.
That is, until her son Alfie drops out of university, and Nadia finds her empty nest is empty no more. With a heartbroken teenager to contend with, Nadia has to ask herself: is it ever possible for a mother to get her own life back? And can Jack and Nadia's relationship survive having a sulky teenager around?" The Mum Who Got Her Life Back is out in February 2019.
TEXT