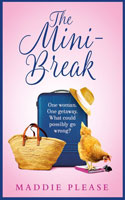 The Mini-Break, by Maddie Please, sees a romance writer go on a getaway. The summary says: "Sometimes you just need to get away...
Lulu has it all; a romance writer at the height of her career, she can often be found attending glittery parties or spending time with her good-looking, health-fanatic boyfriend, Benedict.
When writer's block strikes she goes on a mini-break to Devon, which proves just the tonic she needs. But upon her return to London, she finds her usual perfect life in chaos.
Will escaping back to the countryside be the answer? And will life become even more complicated when Lulu runs into handsome, brooding farmer Joe?" The Mini-Break is out in March 2019.
TEXT