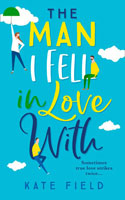 Maybe true love can strike twice in Kate Field's The Man I Fell In Love With. The summary says: "Sometimes we find happiness where we least expect it...
After twenty years of contented marriage, no one is more surprised than Mary Black when her husband announces he's leaving her... for another man.
For the sake of the children, Mary has no choice but to pick herself up and start again. She hosts family meals that include Leo and his new partner. She copes with the kids wanting to spend less time with her and more time with their 'fun' dads. But one thing she can't quite ignore is Leo's gorgeous brother, who has just come back to town.
After living a life of sliding doors and missed opportunities, can Mary finally put herself first and take a chance that could change everything?" The Man I Fell In Love With is out in February 2019.
TEXT