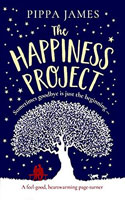 Sometimes goodbye is only the beginning in Pippa James' latest novel, The Happiness Project.
The summary says: "1) Exercise more
2) Eat healthily
3) Learn how to live again...
Forty-year-old Alison Lund has always carefully planned everything in her well-ordered life, from colour co-ordinating her beautiful house to persuading her excitable son Alexander that sticker charts are more fun than misbehaving. But Alison's perfect world has just fallen apart...
Her head is left spinning when her beloved larger-than-life mother-in-law, Maggie, passes away and Alison is left heartbroken. Every afternoon they'd talk and laugh over a pot of tea, she was the glue that kept Alison together through the first few tough years of motherhood. And now Alison is trying to figure out a future without her.
With a little help from her two best friends, Alison resolves to be more Maggie. After an emotional New Year's Eve get together, the three women create a happiness project, challenging themselves to step outside their comfort zones and make the most of every single day.
Daring to do things differently, can Alison learn to live more spontaneously and find happiness along the way? Or will letting go be harder than she ever imagined?" The Happiness Project is out in February 2019.
TEXT