Annika and Jonathan first dated in college but things didn't work out the way they wanted, and they ended up going their separate ways. Almost ten years later, they bump into each other in New York. Annika is busy working as a librarian and Jonathan is on Wall Street. The couple reconnects and starts building another relationship until September 11th strikes and tragedy occurs once again.
I read this book for two reasons - the first is that the author is a favourite of mine and the second is that the topic is something I hold dear to my heart because I have several family members on different parts of the autism spectrum. I liked this story because you could see the challenges that Annika has gone through to adjust to living with social anxiety issues. What I loved most was the fact that Jonathan never judged Annika and loved her for who she was - quirks and all. Whether it be due to the autism aspect or 9/11, this book may trigger emotions and memories. (PP)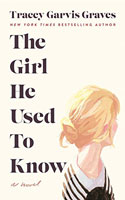 Tracey Garvis Graves' latest novel, The Girl He Used to Know, is a story of unconditional love.
The summary says: "Annika (rhymes with Monica) Rose is an English major at the University of Illinois. Anxious in social situations where she finds most people's behaviour confusing, she'd rather be surrounded by the order and discipline of books or the quiet solitude of playing chess.
Jonathan Hoffman joined the chess club and lost his first game - and his heart - to the shy and awkward, yet brilliant and beautiful Annika. He admires her ability to be true to herself, quirks and all, and accepts the challenges involved in pursuing a relationship with her.
Jonathan and Annika bring out the best in each other, finding the confidence and courage within themselves to plan a future together. What follows is a tumultuous yet tender love affair that withstands everything except the unforeseen tragedy that forces them apart, shattering their connection and leaving them to navigate their lives alone.
Now, a decade later, fate reunites Annika and Jonathan in Chicago. She's living the life she wanted as a librarian. He's a Wall Street whiz, recovering from a divorce and seeking a fresh start. The attraction and strong feelings they once shared are instantly rekindled, but until they confront the fears and anxieties that drove them apart, their second chance will end before it truly begins." The Girl He Used to Know is out in April 2019. You can read an excerpt here.