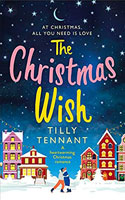 Head to Lapland in Tilly Tennant's festive novel, The Christmas Wish.
The summary says: "Christmas is coming but it doesn't feel that way for Esme. Jilted by her cheating fiance Warren and mourning the death of her beloved grandmother, she's determined not to let life beat her and books a trip to Lapland, on a holiday that her grandmother had always dreamed of taking.
Beneath the indigo skies of Lapland, love is the last thing on Esme's mind but she can't ignore a spark with Zach, a broodingly handsome actor, also nursing a broken heart. But when Esme is bombarded by messages from Warren promising he's changed and she discovers that Zach is hiding something - will her head be turned?
And when a trip to the northern lights reveals the full extent Zach's own secret past, is there any hope that Esme will get the happy ending that her grandmother wished for her?" The Christmas Wish is out in October 2018.
TEXT