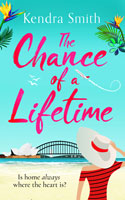 A new life Down Under may not be as perfect as you think, in Kendra Smith's novel,The Chance of a Lifetime. The summary says: "Katie and Tom's marriage is in trouble. As is their bank account. So, when Tom tells Katie that they need to talk, she knows it must be about one of two things, and neither are good.
But when he blind-sides her saying that his boss is sending him to Australia - permanently - Katie realises it might just be what they need to save their marriage.
Trouble is, she doesn't like the heat, can't swim and hates spiders. Not to mention the bouts of homesickness - and Tom's endless business trips. Katie is finding the hope of saving their marriage slowly slipping through her fingers. But Katie is determined to take the bull by the horns - and her Speedos by the strap - and tackles her new life. When all is said and done which side of the globe will she decide to call home?"
Previously published as Jacaranda Wife, The Chance of a Lifetime is out in January 2019.
TEXT