TAYLOR COLE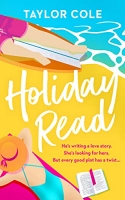 Holiday Read (2023)
Romance book lover Candice left her husband and Hawaii to move to Cornwall, England. She is working as a waitress at a café while she sets up a surf school.
After writer Alexis comes into the café to work on his laptop, Candice finds out that he is writing a romance because he thinks stuff like Bridgerton is what sells. And unsurprisingly, he is struggling.
Then she is annoyed to discover that Alexis is taking inspiration from her for his story and his agent Daniel rocks up to check on progress.
Cute cover wasted on a mediocre book. Something about this story just didn't work. The love triangle was off because one of the prospects becomes truly awful in a cringe way. Candice's mission to find her father ends in a very unbelievable way and there were a lot of improbable coincidences throughout.