TASNEEM ABDUR-RASHID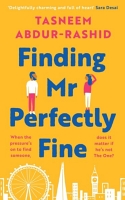 Finding Mr Perfectly Fine (2022)
Zara has a Bengali background and lives with her parents and sisters in London. As the eldest daughter, she has a year – until she turns 30 – to find herself a husband or her mother is buying her a one-way ticket to Bangladesh.
So Zara agrees to submit her biodata – like a marriage CV - to potential suitors. She also joins a Muslim dating app and goes to a networking/speed dating event. She soon has a few guys on the go, including Egyptian Hamza who seems perfect on paper but she just isn't attracted to him. Meanwhile, she can't help but feel some sparks with her colleague Adam.
It is always interesting to read about a different culture and the customs they grow up with. This was an entertaining journey as Zara juggled her family expectations and the clash between her heart and head. However, there was a bit too much internal monologue instead of action. I also deducted a point because the ending was so annoyingly abrupt, that I even checked to see if my version was missing its final pages.