SWETA RANA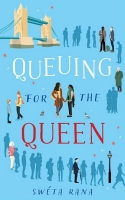 Queuing for the Queen (2023)
After the Queen's death, Tania has joined her mother Rani in the massive queue snaking its way to Westminster Hall to pay their respects to the long-serving monarch lying in state.
They meet a variety of people along the way, from the elderly Harold who is doing it for his late wife; to gay couple Colin and Denzel; to single mum Elsie whose young son Owen knows everything there is to know about the royal family.
The tale about strangers bonding in a queue is interspersed with Rani's backstory from when her family left India to come to London and it was this element that added depth to her character and her relationship with her daughter.
Props to the author for a quick turnaround from a current event – and to all the people who spent hours and hours lining up during that week in September.

---