SUSAN MALLERY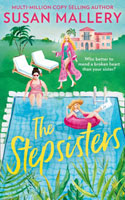 The Stepsisters (2021)
Daisy has never really got on with her stepsister Sage or half-sister Cassidy and hasn't seen either for years. But when Cassidy is injured, their dad arranges for her to recuperate at Daisy's home. Daisy's not impressed, especially since she's dealing with marriage problems after her husband, Jordan, moved out, without giving any explanation why.
Meanwhile Sage – who was once engaged to Jordan - is not only back in town from Europe, but back in Daisy's life too. This offers a second chance for these sisters to put the past behind them and form a bond. Will they take it?
I haven't read this author before, despite her extensive catalogue, and this cute, bright cover drew me in. The story was okay but I started skipping pages in the second half.

---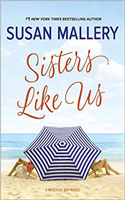 Sisters Like Us (2018)
Stacey is a scientific genius, the best in her job, but when it comes to family she is not so great. She is pregnant but can't feel a connection to her baby and, even though she is past the sixth month, she still hasn't told her overbearing mother about her pregnancy. Her sister Harper doesn't have a better relationship with their mother either, since she blames her for not keeping her husband and disapproves of her getting a job after the divorce.
Meanwhile, Harper's sixteen-year-old daughter, Becca, has her own problems: her mother is too busy with her job to listen to her, her best friend is distant since she has a boyfriend, her father is not really interested in her because he is too busy with his new young wife, and she has a crush on her uncle's nephew, Ashton.
The novel started a bit slow for me, I wasn't really getting into it, but as I kept reading I got to know and like the characters more and their stories became more intriguing and captivating. There are no shocking surprises, but this is still a romantic, funny, and enjoyable novel about family, parenting, and second chances. (NP)

---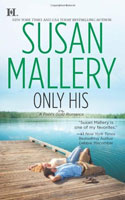 Only His (2011)
Susan Mallery's Fools Gold series delivers another hit with Only His. Triplet sisters live in Fools Gold, famous for its history of strong woman. The stores and even the bars are marketed towards woman - the only bar in town has a tiny section for men and the larger section is set up with everything women could love in a bar.
Nevada, one of the sisters, is a construction worker. She is intelligent and knowledgeable and not even looking for romance despite the pressure from her mum now that her two sisters are engaged. She applies for a job with Janack Construction, not realising that she will be interviewing with a past flame and not the owner of the company. She is flustered and blows the interview.
What follows is an intriguing set of tests and twists that will allow Nevada to find her way in life and establish herself as a great businesswoman in Fools Gold. Her friends gather around throughout the journey to support, give advice (necessary or not), and laugh and cry with her. Will she find what she is looking for?
This strong novel filled with love and laughter was hard to put down. (MS)

---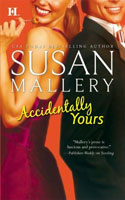 Accidentally Yours (2008)
Kerri's son is dying from a rare disease and she needs $15 million to reopen the Washington lab where, she is sure, they will find the cure. She's even figured out where to get the money - from pretentious and cold billionaire Nathan King. Kerri knows he's got to have a heart somewhere.
But Nathan is a different man then she expected. His coldness is justified and his pain, which he hides below the surface, is deep. As the two become closer, with Kerri practically blackmailing him for the money, their relationship starts to change. But can two people who are complete opposites ever fall and stay in love? (SN)