SUSAN ELIZABETH PHILLIPS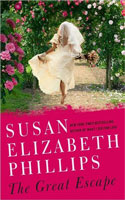 The Great Escape (2014)
Lucy Jorik's wedding has created excitement across the USA and quite right too: she is the ex-president's daughter. It all seems perfect, so why does she ditch Ted Beaudine (Mr Irresistible) at the altar? The runaway bride takes off on the back of a motorbike with Panda, a man completely different from her. Needing time to think about her future, she heads to Panda's house on Charity Island in Michigan where, in an attempt of going unnoticed, she becomes her alter ego Viper. There, she becomes friends with Bree Remington and TV star Temple Renshaw, who will help her on her journey to self-discovery. And of course she finally gets to know the real Panda. This book, part of the Wynette Texas series and the sequel to Call Me Irresistible, became boring in parts with too many long descriptive passages. (CP)

---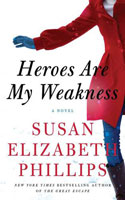 Heroes Are My Weakness (2014)
When Annie Hewitt returns to her childhood home to collect the legacy her mother left her, she comes face to face with her past, literally, in the form of Theo Harp. Years ago Theo betrayed Annie, leaving her terrified and unable to forgive him. Now she must endure him on a daily basis while she looks for her mother's legacy and tries to decide what's next for her in life. As they begin to reconnect, and Annie begins to learn the truth about what happened when they were teenagers, she wonders if Theo is still the same dark person she remembers or if maybe he's changed - for the better. This book was very hard to read. It had a lot of moving parts which didn't seem to fit together to tell a cohesive story. It started out suggesting a dark, gothic and sinister tale, but wound up just being confusing when the author introduced too many different elements designed to change our minds about the characters. I kept reading in hopes everything would come together by the end but was disappointed when it didn't. (LEK)

---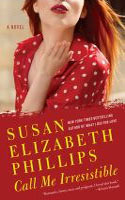 Call Me Irresistible (2011)
Meg Koranda's life turns unexpectedly when she goes to Wynette in Texas to prevent her best friend Lucy marrying the wrong man, Ted Beaudine or Mr Irresistible. Owing to circumstances beyond her control, Meg has to stay on in the town after the "failed wedding". There, everybody loves Ted and consequently hates her. But Meg is a resolute woman and faces up to it: she starts a new life in Wynette knowing full well that all eyes will be on her, including Ted and his family. Meg is going to be involved in some hilarious situations as little by little, she wins back her neighbours' trust. But what happens when Meg starts to win Mr Irresistible's affections? This is a very entertaining romantic comedy where laughs are assured. (CP)

---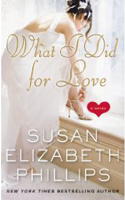 What I Did for Love (2009)
When America's sweetheart Georgina York's husband leaves her for a Hollywood A-lister, the story is splashed across the tabloids. Off to Las Vegas to give her heart a lift with a party, she wakes up in bed with her nemesis: former co-star and off-screen bad boy Bramwell Shepard. Making matters worse: she had almost no memory of the night before, except finding a piece of paper on her pillow and a cheap plastic ring on her hand. So she decides to take advantage of a fake marriage for both their careers. Although one can't help but wonder whether Bram, with his dwindling career, has more to benefit by being associated with do-good Georgie. Don't let the title fool you into thinking this is just a cheesy romance. If you want humour with a tasteful bit of mush, Phillips has mashed up just the right mix of snappy dialogue and cheeky characters for you. (SARI)

---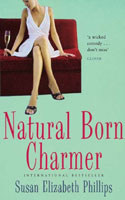 Natural Born Charmer (2007)
What do Dean Robillard and Blue Bailey have in common? Nothing! He is a handsome star quarterback in the NFL and she's a madcap young woman who tries to make her living painting. But by chance, their lives cross on a road near to Denver. For different reasons, both need each other and decide to make a deal. Without doubt, it is going to be an unforgettable summer. Dean and Blue are two very insecure people because of their difficult childhoods and they soon understand each other, although the shadow of the distrust is always present. Dean's family, who keeps a big secret, will play an important role in their relationship. Natural Born Charmer, part of the Chicago Stars series, is an enjoyable book, with funny situations and protagonists that you easily become fond of. Time flies when reading it. (CP)

---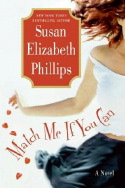 Match Me If You Can (2005)
Annabelle Granger, who has inherited her grandmother's matchmaking business, runs late to her first appointment with Heath Champion, a wealthy, good-looking sports agent known as The Python. He already has the Power Matches agency working for him, but Annabelle's best friend, Molly, is married to his top client and convinces him to give Annabelle's business a go. Trouble is he demands that Annabelle sit in on all his matchmaking dates, and then they start falling for each other.

---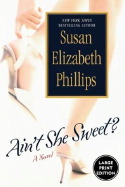 Ain't She Sweet? (2004)
Life was sweet for Sugar Beth Carey, the spoiled and untouchable princess of Parrish, Mississippi. That is until she became disillusioned with the real world. Fifteen years and three husbands later, she is coming home, to find herself dethroned by her enemies. The town's new royalty cannot wait for their ultimate revenge. These include her ex-boyfriend Ryan, her half-sister Winnie, and, of course, the man whose life she ruined, Colin. Trouble stirs this peaceful town's inhabitants, and unbeknownst to everyone Sugar Beth is the key to put everything back to right. While this book has the dependable Phillips' sassy humour to satisfy chick lit fans, it offers loads of Southern love for the romance junkies. (SARI)

---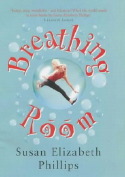 Breathing Room (2003)
Dr Isabela Favor is a best-selling author of self-help book Four Cornerstones. Except her cornerstones have all crumbled: her account manager has run off with her money and her fiance leaves her for his pregnant girlfriend. Bankrupt and without credibility to restart her career, she is determined to put her life back together in Italy. This starchy doctor starts to take drastic measures: like a one-night stand with a stranger who ends up being her landlord, and giving marriage counselling to his ex-wife and her current husband. Learning from the warmth of Italy's people and the bacchanal spirit of its feasts, this time she lets down her hair, breathes deeply, and embraces the beautiful mess life throws at her. This novel celebrates the wonders of life's imperfections. It also bears the Phillips trademark of quirky characters. (SARI)

---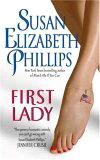 First Lady (2000)
Cornelia (Nealy) Case, widow of US President Dennis Case, is asked to stay on as First Lady beside the new president. Despite being raised for public service by her political adviser father, Nealy decides to break free of the White House regime. She goes on the run and hitches a ride in a campervan with Mat Jorik and his ex-wife's two daughters. As the Secret Service closes in, Mat uncovers her secret while she discovers he's a journalist.

---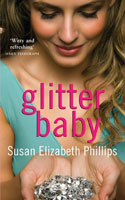 Glitter Baby (1987)
Fleur Savagar was a rich teenager who went to Hollywood and soon became America's sweetheart. Few people knew that behind her glittering hair and powerful stature, there was an awkward girl who was too tall for her age and had feet too big to walk gracefully. Fleur falls in love with smooth heart-throb Jake, who takes advantage of her infatuation. Heartbroken, she runs home to find solace, only to find out otherwise, so she explores the world as an anonymous citizen for as long as she can. But the world is too small for her not to bump into Jake again. This time, she faces the world a wiser and elegant woman who knows what she wants and how to get it. After more than 20 years since its first printing, Phillips' fans are not to be disappointed. Unlike her later novels, Glitter Baby's characters have more layers to add to the drama of the story. (SARI)