SUE TEDDERN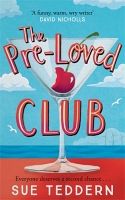 The Pre-Loved Club (2022)
Gemma and Ned meet at a support group for single parents but don't hit it off at all. Over time though their friendship grows, as they help one another adapt to the single life and re-enter the dating scene.
Gemma's ex, Joe, has moved on with Vicky and their son Kelvin now has a baby half-sister. Ned's former wife, Tanya, lives with architect Julian so he only gets weekend access to daughter Dora.
The author has created a really relatable cast of characters in this humorous and warm-hearted story about finding love again.