SUE ROBERTS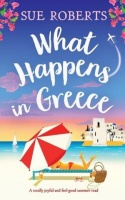 What Happens in Greece (2022)
Charlie runs a cafe in Chester and is engaged to mechanic Jamie. She has a dream of living in their favourite holiday spot of Crete.
When she finds a bargain of a house online, they take the plunge and move to a village on the Greek isle. And with lots of help from the locals, they set about doing up the place and settling in.
This is a lovely read for those who want a brief escape to a spot of paradise and enjoy that Greek hospitality. But Charlie made me nervous, making so many major decisions on the fly and everything seemed to go a bit too smoothly compared to real life!

---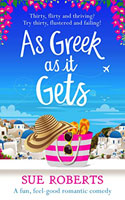 As Greek As It Gets (2020)
Alice and her financial planner fiance Max are planning their wedding but he is making it a much bigger affair than she would like. She returns to Greece, where Max proposed, for her hens party and discovers the perfect spot for a more intimate gathering. But an evening spent chatting with a charming local creates all sorts of problems.
The gorgeous cover pulls you straight into this book, with its promise of a sunny Greek escape. However, the plot is a bit too simple and needed more drama to make it stand out.

---