SOPHIE McCARTNEY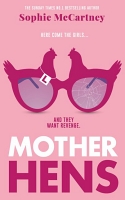 Mother Hens (2023)
Cara's best friend, Jac, gets engaged just as Cara hears that her football manager husband Dom is leaving her for her younger sister, Connie.
Two years and one divorce later, as Jac's much-anticipated hens party on Ibiza rolls around, Cara finds that Connie and her uncaring mother Camilla are also on the Spanish party island.
The women get caught up in a range of madcap mishaps and cringeworthy moments from trying to flee an overly rustic retreat to getting involved in drug deals gone wrong and kidnappings.
This was an over-the-top romp with clever quips in the vein of Kathy Lette. It's a wild ride, hilarious in parts, too chaotic and mentally exhausting in others.