SOPHIE KINSELLA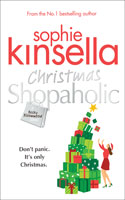 Christmas Shopaholic (2019)
Not only has Sophie Kinsella written a Christmas novel but it's a continuation of Becky Brandon nee Bloomwood's story. And it's fantastic. Forced by her family to host Christmas for the first time, it's not easy to make everyone happy. Becky needs to find the perfect present for her husband Luke, an ex-boyfriend has moved nearby, and her sister Jess is hiding something.
The Shopaholic series is one of my favourites and I am always excited when a new novel comes out and this time the four-year wait was definitely worth it. Christmas Shopaholic is witty and funny as always, engaging and addictive, and there are also a few moving moments (what an ending!).
If this is your first Shopaholic novel, you can easily read it as a stand-alone but I highly recommend you read the previous books because you will enjoy them all. (NP)

---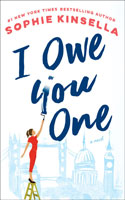 I Owe You One (2019)
She's back! Sophie Kinsella is back which means that I spent two days completely immersed in her new novel and then sad when it was over. The protagonist of this novel is Fixie Farr, a young Londoner who can't help but always fix things and people, although most of the times it backfires.
Like when she wants to help her teenage crush Ryan find a job. She'll do anything to keep him in London with her and since Sebastian, a stranger who owns her a favour, is looking to hire someone for his own company, she asks for his help.
What could possibly go wrong? A series of incidents, coincidences, and probably fate mean that Fixie and Sebastian exchange more IOUs and have to spend more and more time with each other.
Like all the main characters in Sophie Kinsella's novels, Fixie is likable, engaging, funny, and realistic. She develops throughout the novel, learning to put herself first sometime instead of her family. Entertaining, original, engrossing, this is another brilliant novel full of hilarity, romance, and life lessons - an absolute must-read! (NP)

---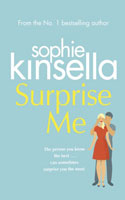 Surprise Me (2018)
Dan and Sylvie have been together for 10 years, and they have two beautiful daughters. They finish each other's sentences and know exactly what the other one is thinking or is going to do. But when they hear they will probably spend the next 68 years together, they completely freak out.
It's a lot of time to spend with the same person doing the same things. So they decide to spice up their lives with a few surprises that not always have good results, from awkward photoshoots to snakes to booking double appointments. Then Sylvie starts to suspect that Dan is hiding something from her.
This is another successful novel from one of my favourite authors. The female characters are funny and engaging and I wish they were my friends. There is never a dull moment, with a few dramatic scenes, a few awkward occasions, and hilarious situations that made me laugh out loud - especially the scene of the sexy photoshoot. Despite the laughs, I found this book a bit more serious than Kinsella's other novels, but it still has her captivating writing, lovable characters and witty dialogue. (NP)

---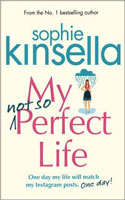 My Not So Perfect Life (2017)
Katie or Cat has dreamt of the bright lights of London since she was a child. But now that she is living in London, those lights are not so bright. Her bedroom is the size of a shoebox, her job is not that glamorous and when her boss Demeter calls her into her office for a special project what she actually wants is for Katie to help her dye her hair.
When Demeter fires her, Katie has no choice but to pack her things and go back to Somerset where she helps her father and stepmother to turn the family's farm into a glamping camp (a luxurious camp site for rich people). When Demeter suddenly turns up with her family and doesn't recognise her, Katie sees her chance to get her revenge.
Sophie Kinsella's characters are so realistic and down-to-earth that you feel you can connect with them. Katie's struggle to leave behind her country manners and accent and make it in the big city is relatable and I love how she never loses her hope and optimism even when she finds someone else's sandwich in her mouth during a horrible commute or when the hammock that she uses as storage space over her bed falls on her. Witty dialogues, fascinating and quirky characters, and hilarious scenes create another brilliant and outstanding novel from one of my favourite authors. (NP)

---
Shopaholic to the Rescue (2015)
In the eighth instalment of the Shopaholic series, Becky Brandon travels to Las Vegas and Arizona looking for her missing father. With her are her very patient husband Luke, their lively daughter Minnie, her worried mother, the chatty neighbour Janice, her best friend Suze who is looking for her husband, and her enemy Alicia Bitch Long-Legs.
In Shopaholic to the Stars, her father arrived in LA looking for a mysterious long-lost friend and now he is travelling through the west looking for him together with Suze's husband, Tarkie, who is going through problems of his own. During the trip, Becky not only will have to try to convince his father to come home, but she will have to deal with her overworried mother, mend her strained relationship with Suze and stop her daughter from becoming a professional sheep rider.
Hilarious and entertaining, the new Shopaholic book is as addictive as the other books in the series. I read it in one evening and I already can't wait for the next one. A real page-turner! (NP)

---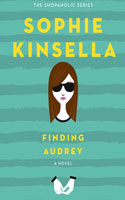 Finding Audrey (2015)
After an incident at school, 14-year-old Audrey has developed an anxiety disorder. She doesn't leave the house, she can't talk to people outside her family and therapist, and she always wears dark glasses to hide her eyes. But when her brother Frank's gaming buddy, Linus, arrives on the scene, he encourages her to challenge herself on the road to recovery. Meanwhile, Audrey's mother is desperately trying to keep Frank off the computer games but he seems to outsmart her at every turn.
While I would have loved to have known more about the inciting incident at school, this is a touching yet hysterically funny story of a girl finding her way out of a dark place. The way that Audrey documents life through her video camera gives us an even better glimpse into her quirky family, resulting in an enjoyable YA read that adults will love as well.

---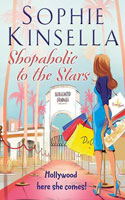 Shopaholic to the Stars (2014)
When husband Luke gets a job in LA, Becky Brandon has her sights set on fame. She's determined to become best friends with up-and-coming actress Sage Seymour, hang out at the celeb hotspots and go to all the red-carpet events. And this is her perfect opportunity to launch a new career as personal stylist to the stars. She just needs a way in.
When she becomes embroiled in a feud between Sage and her long-time rival Lois Kellerton, Becky suddenly finds herself in the middle of a media storm. But she's going to have to learn quickly what it takes to be famous and find out whether it's worth it.
Sophie Kinsella's seventh book in the Shopaholic series is an illustration of classic chick lit, with a fun and entertaining plot centred on the bumbling, guileless antics of heroine Becky. Although at times Becky's behaviour did border on the insufferable and it took her longer than it should to come to her senses.
It was also a shame that romance didn't feature more especially when Luke offers such swoonworthy lines as 'I'm your husband. If you're lost, it's up to me to come and find you'. Having not read the other books in the series, I'm not sure how this compares but in its own right it's an enjoyable, playful read; chick lit through and through. (JC)

---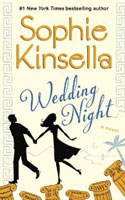 Wedding Night (2013)
Lottie just lost the best thing in her life after her boyfriend's "big question" turns out to be about a trip rather than a proposal as she was expecting. The fact that they've been together for years and he hasn't even talked about marriage makes Lottie decide their future is bleak so she decides to break up with him and then ends up doing something her sister, Fliss, would call an "unfortunate choice" to quell her pain.
Ben, handsome, rugged and extremely rich, was Lottie's fling years ago while in Greece, so when he shows up out of the blue and proposes, how can a girl say no?
Luckily for Lottie, there are people in her life who don't want her to make the biggest mistake ever, including Fliss who is entwined in a never-ending divorce battle. But will they save Lottie in time or is she destined to regret the worst "unfortunate choice" she's ever made for the rest of her life?
Written from both Lottie and Fliss' point of view, this novel is a bit different than Kinsella novels of past. It's good, don't get me wrong, but not as good as her prior stand-alone novels. Either way, it's still a fun and humorous story that will leave you thinking the next time you want to do something crazy after a break-up. (AS)

---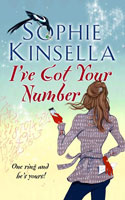 I've Got Your Number (2012)
Poppy has lost her fiance Magnus' engagement ring - an heirloom that has been in his family for generations. Despite being a physiotherapist, she already feels considerably dim around his family of academics (the reason you'll find footnotes in this book) and now she has to avoid showing them her left hand until she can figure out a way to get the ring back. To make matters worse, her phone - and lifeline - has been stolen.
So when Poppy spots an abandoned phone, she borrows it. Discovering it belongs to businessman Sam, Poppy convinces him to let her keep the phone for a bit, promising to send on any messages to him. In the process she starts interfering in his life - both professional and personal. This is pure chick lit comedy, with Kinsella at her absolute best.

---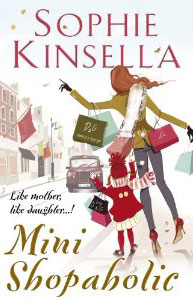 Mini Shopaholic (2010)
Becky Brandon is having trouble keeping her two-year-old daughter Minnie under control. What Minnie sees, Minnie wants and her favourite word is "Mine". Luke wants to call in the experts in the form of a TV nanny and won't even contemplate having another child.
Luckily Becky is able to call on her extensive financial planning skills to implement a strict pocket money arrangement so she doesn't spoil the child. She also does her bit to stimulate the struggling British economy, penning advice to the Chancellor of the Exchequer and coming up with a novel scheme that saves her personal shopping department.
Meanwhile Becky has her hands full organising a surprise party for Luke's birthday - and in true Becky style it all spirals out of control very quickly. This is a laugh-a-minute story which proves you can still be on fire even six books into a series. And the ending suggests another Shopaholic adventure looms.

---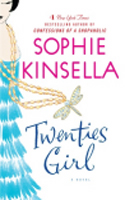 Twenties Girl (2009)
This follows the life of Lara Lington who is suddenly "haunted" by her great aunt Sadie. Sceptical at first, Lara eventually feels that Sadie is her guardian angel and helps Sadie find the one thing that she needs to rest in peace - her beautiful dragonfly necklace.
In the process, Lara believes her great aunt was murdered, asks a handsome stranger on a date, and talks to Sadie (who no one else can see) so much that people start to think she has lost her mind - which is easy to believe as she hasn't been acting right since her break-up with her true love, Josh.
Eventually, Lara discovers that someone in her family has been harbouring a secret that will ruin them and Lara, with the help of Sadie, decides to expose them and finally set things right. It is fun, feisty and an absolutely brilliant read. (AS)

---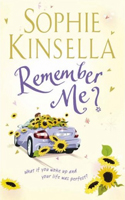 Remember Me? (2008)
Lexi Smart is having a crappy night. Her date is a no-show, she's the only staff member at her flooring company to miss out on the annual bonus and her new boots are too small - oh and tomorrow is her father's funeral. While trying to hail a taxi, she slips and bumps her head. When she wakes up in a hospital bed, she actually discovers it's 2007 and she's got amnesia after a car accident.
But in the three missing years of her life she's gained a millionaire husband, a glamorous wardrobe, a luxurious apartment and has become boss of her department. How on earth did she land this dream life? And why do her friends hate her and why does her husband's colleague insist they were having an affair?
Kinsella has delivered another failsafe chick lit comedy - maybe not her most memorable but you'll still devour it as fast as you can.

---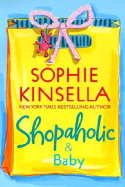 Shopaholic & Baby (2007)
Rebecca Brandon is back with a bump . . . and is househunting for the perfect home with a Shoe Room in time for the arrival of their first child. After discovering that shopping cures morning sickness, she embarks on getting everything ready for the baby - from five prams, two nurseries and a celebrity obstetrician.
But as she shops for two, she fears there are three in her marriage - her glamorous doctor is Luke's former college girlfriend, Venetia. Could Becky's marriage crumble before her baby is born?

---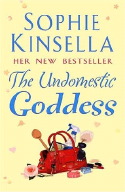 The Undomestic Goddess (2005)
As workaholic lawyer Samantha Sweeting is going for partnership, she realises that she forgot to register a loan and a company is set to lose $50 million. So she just walks out and gets on a train bound for the middle of nowhere. When she asks for directions at a big house, she is mistaken as a housekeeper looking for work and is hired by nouveau riche couple Eddie and Trisha.
But Samantha struggles to do the most basic chores until hunky gardener Nathaniel lends a hand. But will her old life catch up with her . . . and will she want it back?

---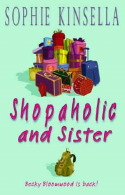 Shopaholic & Sister (2004)
Rebecca Brandon (nee Bloomwood) returns to London after a 10-month honeymoon travelling the world with Luke. As two lorries deliver her honeymoon purchases, her long-lost half-sister Jess turns up to meet her father. Rebecca, who had thought she was an only child, embraces her new sister but is disturbed to find she's a skinflint who hates shopping. But is Rebecca willing to learn some frugal ways in a bid to strengthen sibling ties?

---
Can You Keep a Secret? (2003)
Emma Corrigan is a young woman who spills her most intimate secrets to a complete stranger on a plane. She is horrified to then learn that this handsome stranger is her American boss, Jack, who's visiting the company's London branch. Emma is a fantastic character that every reader will identify with. Sophie Kinsella does not disappoint in this hysterical novel that you will not be able to put down. (AO)

---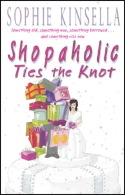 Shopaholic Ties the Knot (2002)
Rebecca Bloomwood is now a personal shopper at Barney's in New York when boyfriend Luke Brandon proposes. Rebecca gets stuck into planning her wedding but the trouble is her mum wants a backyard wedding at home while Luke's frosty society mother books The Plaza in New York. How is Becky going to pull off two weddings on either side of the Atlantic?

---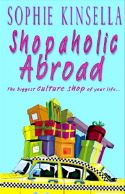 Shopaholic Abroad (2001)
Also known as Shopaholic Takes Manhattan
Rebecca Bloomwood is now a financial adviser on a morning TV show and having settled her debts, her new motto is Buy Only What You Need. But then the Big Apple's luxury department stores and designer sales beckon when she moves with boyfriend Luke Brandon to New York. But will Becky's extravagant spending habits return to ruin their Manhattan life?

---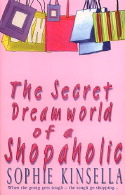 The Secret Dreamworld of a Shopaholic (2000)
Also known as Confessions of a Shopaholic
As a financial journalist for Successful Saving magazine, Rebecca Bloomwood spends her working life telling people how to manage their money. In her private life she is a shopaholic who is unable to face her mounting debts. She dreams of lottery wins, marriage to rich heirs and a range of harebrained schemes to save her from financial disaster. But has she met her dream man in Luke Brandon, head of a financial PR company, who is more than willing to lend her £20 to buy her ailing aunt a present.