SOFIE CRAMER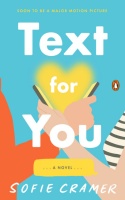 Text For You (2022)
It has been two years since Clara's high-spirited fiance Ben died by falling off a balcony and she still misses him every day. In her grief, she begins to send him heartfelt texts without realising his phone number has been reassigned to business journalist Sven.
Sven, moved by the texts, doesn't reply but sets out to find the mysterious messenger.
Originally published in German as SMS fur Dich (with a German film of the same name), this book drew my attention because it's slated for a 2023 movie adaptation called It's All Coming Back to Me, starring Priyanka Chopra Jonas, Sam Heughan and Celine Dion. Hopefully the script has had some major work because as a novel, this was rather underwhelming. Great concept but the second half was rushed, giving no time for the characters to develop any chemistry.

---