SHARON M. PETERSON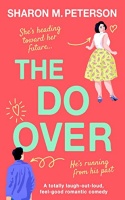 The Do-Over (2022)
Perci's in the dentist's chair when she hears her boyfriend, Brent, dump her on a radio show. With Perci's mother always making her feel inadequate, particularly around her weight, she pretends her neighbour Nate is her new boyfriend.
Meanwhile her best friend, Mathias, has a crush on her sister Phee but she's dating pompous news anchor Joel.
This was a witty and refreshing read as Perci learns to stand up for herself, especially where her mother is concerned.
With a highly relatable heroine, an amiable love interest, and a message of self-empowerment, this story is a pure delight from the first page. Grandmother Mimi's pithy sayings at the start of each chapter are a highlight.

---