SERENA TERRY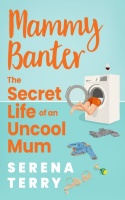 Mammy Banter: The Secret Life of an Uncool Mum (2022)
Thirty-six-year-old Tara wants to get her groove back. Her daughter, Gemma, has just become a stroppy teenager and is embarrassed by her uncool mum on the daily.
Tara also wants her husband Paul – still an absolute ride in her eyes - to fancy her, so she revamps her image to channel her inner Beyonce – from pink hair to spin classes.
With an amusing narrator, this is a fantastically relatable story about self-confidence and messy family life from a fresh Irish voice, known as Mammy Banter on Tiktok. Grab it when you need a bit of a lift.