SARAH STOVELL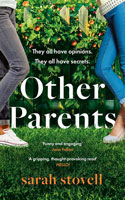 Other Parents (2022)
It doesn't take much to set off gossip among the parents of West Burntridge school. The latest scandal involves social inequality powerhouse Rachel, who has left her husband for freelance journalist Erin. And her daughters, particularly her oldest Maia, are not happy at all about their mum's new live-in lover.
Laura, a single mum who is struggling with looking after her tantrum-throwing son Max, gets behind a petition against including LGBTQ material in sex education classes, riling up Rachel.
Meanwhile headmistress Jo has her son Luke home from London but it appears he is running from trouble.
Told from the perspectives of the five women, this intricately plotted story examines relations in a small community, where despite everyone being in everyone's business, so much remains hidden beneath the surface. It covers many issues from poverty and prejudice, rumours and resentments, to stigma and shame. The storyline around Maia was particularly powerful.

---