SARAH LOTZ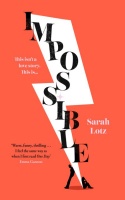 Impossible (2022)
aka The Impossible Us
Nick sends a ranty email to a ghostwriting client who hasn't paid him but it accidentally ends up in Bee's inbox. She replies, and they continue messaging one another, learning bits and pieces about each other's lives amid their easy banter – she repurposes wedding dresses, he's a dog lover whose marriage is ending.
However, when the pair eventually arrange to meet up under the clock at a London train station, they can't find one another.
This is one of those special books you'll always remember. It's a bittersweet love story full of complications. And with its adaptation already in the works, I can't wait to see how it translates to screen.

---