SARA GOODMAN CONFINO
She's Up to No Good (2022)
When Jenna's husband tells her that he's met someone else, she returns home to stay with her parents. Six months later, she's still there, wallowing and refusing to sign the divorce papers.
So her spirited octogenarian grandmother, Evelyn, entices her to join her on a road trip back to her seaside hometown in Massachusetts. On the way, Evelyn begins telling the story of her first love with a Portuguese guy called Tony in the 1950s. But her family refused to accept him because he wasn't Jewish.
Once they arrive in town, while Evelyn is taking care of some business, she arranges for Jenna to shown around by one of Tony's relatives, Joe.
The narrative is split between the two timelines of current day and the flashbacks to Evelyn's youth. It's a gorgeous tale displaying a heartwarming relationship between the generations, and a captivating account of forbidden love.

---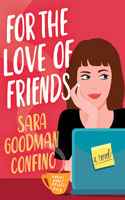 For the Love of Friends (2021)
Lily agrees to be bridesmaid in five weddings over six weeks - to her boss Caryn, college roommate Sharon, her friend Megan, her brother Jake, and her sister Amy. As the expenses mount and time management pressures take a toll, Lily starts anonymously blogging about her experiences and frustrations as a bridesmaid, from Caryn's catty friends and an awkward end to Megan's engagement party to Sharon's overbearing mother and sibling rivalry.
This debut novel offers one of the better examples of a wedding-related story. Lily was a fun character to follow as you waited for her public venting to get her in strife. I am looking forward to what the author does next.

---