SARA FOSTER
The Hidden Hours (2017)
Newly arrived in London, Eleanor moves in with her uncle Ian and his family, and lands some temp work at the publishing firm where her career-driven aunt works. Eleanor hopes her new environment will enable her to move on from her sad upbringing in the Australian outback.
But things take a turn for the worse after the firm's Christmas party on a boat, when executive Arabella is found dead in the river Thames. Police are investigating whether it was an accident or foul play. And although Eleanor remembers talking to Arabella, she draws a blank on the rest of the night. Could she have been somehow involved in her death?
This is a tightly woven story that not only delves into the mystery surrounding Arabella's death but also the family incident that continues to haunt Eleanor. A compelling read.

---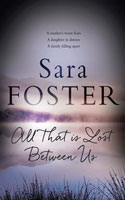 All That is Lost Between Us (2016)
The Turners' lives are shaken when one night their teenage daughter, Georgia, and niece Sophia are involved in a hit and run. Georgia comes out of the incident largely unscathed but Sophia is seriously injured. And it appears it may not have been an accident after all.
Meanwhile, Georgia, a champion fells runner in her last year of school, is keeping a secret from everyone, her brother Zac stumbles across a disturbing find and their mother, Anya, feels she is losing touch with her children despite being a school psychologist. It certainly doesn't help that her husband, Callum, is always off doing mountain rescues and is never around when she needs him.
This is an engrossing read about a family disintegrating under the weight of secrets, guilt and lack of communication. Told from different viewpoints and with the moody atmosphere of the Lakes District playing a big role, the story certainly keeps you on your toes as it amps up the tension leading up to Georgia's big race day.

---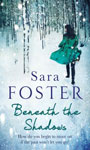 Beneath the Shadows (2011)
Grace and her husband, Adam, have just moved into an inherited cottage on the Yorkshire moors, when Adam disappears, leaving their baby daughter Millie on the doorstep. Initially Grace moves away to live with her parents but now she's back to sort out the cottage and see if she can uncover some clues to Adam's whereabouts.
Grace feels unsettled living on the isolated moors with its ghostly tales, blanketing snow - plus she is not sure if she can trust any of the villagers, including the handyman Ben who's doing up her cottage.
This is an intricately woven tale inspired by classic stories such as Wuthering Heights and Rebecca. The suspense and unexpected twists will leave you guessing all the way through.

---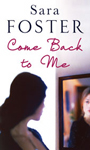 Come Back to Me (2010)
Alex comes face-to-face with his disturbing past when he and his wife, Chloe, go on a restaurant date. Chloe's lawyer colleague, Mark, introduces his date Julia, but the woman abruptly leaves the table, never to return. It appears that she knows Alex but he isn't about to shed any light on their past relationship - not even to Chloe.
As Chloe deals with a largely absent husband and Mark - her ex - showing renewed interest, she finds she's facing another life-changing development.
This is a very promising debut, with a storyline teeming with slowly revealed secrets and unexpected turns. It's told from each character's perspective, and is set between London and Perth. Extra points to anyone guessing the final twist.