SARA DESAI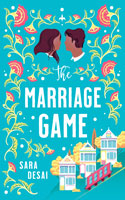 The Marriage Game (2020)
Recruitment consultant Layla plans to work out of the office above her parents' restaurant but then discovers her father has leased it out to Sam, who works in corporate downsizing. It appears they have nothing in common - she tries to find people jobs, while he makes people lose them.
Meanwhile, before Layla's dad was laid up with a heart attack, he advertised her on a dating site and has booked appointments with 10 suitors. An arranged marriage worked beautifully for him and Layla's mother, why not for their daughter too.
With the war of words escalating in the office, Layla and Sam wager a bet – if she finds a suitable partner, she will leave the office to him. If not, he will leave.
Although the story begins with a great premise and has plenty of banter, I found myself skim-reading to finish.

---