SANDY BARKER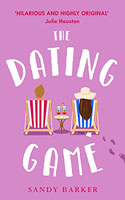 The Dating Game (2021)
Abby writes snarky recap articles about reality TV under a pseudonym. It is decided that for the next season of The Stag – a Bachelor-type program – that Abby will go undercover as an actual contestant, gaining an insider's view into the show to spice up her column.
Soon Abby is winging her way Down Under to move into a Sydney mansion with 11 other contestants – a mix of British and Australian women. Can she juggle her various identities, stay friendly with her competitors, keep the Stag keen even though he is hardly a catch, and not get too distracted by the cute producer Jack?
I was definitely a sucker for reality shows in their early days, so this premise was right up my alley. And I loved every second of this witty novel so it gets a red rose/pin/whatever from me.

---