SANDY BARKER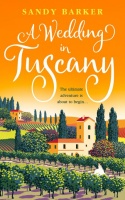 A Wedding in Tuscany (2022)
Sarah is dreading turning forty but she's delighted to hear that her younger sister, Cat, is getting married to Jean-Luc in Tuscany. And she's even more delighted when she finds out that her boyfriend, Josh, has been secretly arranging a surprise birthday party for her in Tuscany too.
As family and friends converge on the scenic Italian region for the joint celebrations, not everything goes to plan - from issues with the wedding dress and venue to unwanted guests. But the biggest problem is that Cat and Jean-Luc haven't yet sorted out where they will live after the wedding – London or Paris.
This is the fifth book in Sandy Barker's Holiday Romance series based on the two sisters' travels and loves, and it acts as a mass reunion for the cast. Because I hadn't read any of the earlier titles, it did feel like I was sometimes standing on the outside, watching on forlornly while everyone caught up on all the good times. So for that reason, I would say this story doesn't work so well as a stand-alone and it would be best to read the series in order (Santorini, Paris, Sydney, Bali, Tuscany).
I also thought the fact that Cat and Jean-Luc hadn't had a conversation about the location of their marital home was a ridiculously implausible conflict.
But despite these two issues, overall it was still a pleasant and entertaining read with a dreamy destination.

---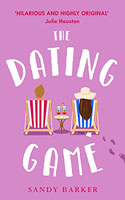 The Dating Game (2021)
Abby writes snarky recap articles about reality TV under a pseudonym. It is decided that for the next season of The Stag – a Bachelor-type program – that Abby will go undercover as an actual contestant, gaining an insider's view into the show to spice up her column.
Soon Abby is winging her way Down Under to move into a Sydney mansion with 11 other contestants – a mix of British and Australian women. Can she juggle her various identities, stay friendly with her competitors, keep the Stag keen even though he is hardly a catch, and not get too distracted by the cute producer Jack?
I was definitely a sucker for reality shows in their early days, so this premise was right up my alley. And I loved every second of this witty novel so it gets a red rose/pin/whatever from me.

---