RANDY SUSAN MEYERS
aka R.S. Meyers
---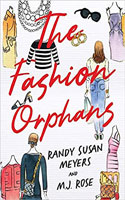 The Fashion Orphans (2022)
Half-sisters Gabrielle and Lulu are asked to attend their mother Bette's will reading and both hope their inheritance will help them get their lives back on track.
Baker Lulu needs some money to pay off the debts that have mounted since her husband died. And Gabrielle, a former costume designer, is still reeling from the humiliation of being dumped by her social circle after her divorce and now works in a bookstore.
But Bette is as controlling in death as she was in life – leaving them a collection of vintage Chanel clothing and accessories, with the instruction that they can't do anything with it until they appreciate what it means.
This was a quaint tale about a puzzling bequest that enables the sisters to reconnect and forge a new path together, while celebrating their mother's love of fashion and Coco's pearls of wisdom.

---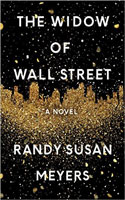 The Widow of Wall Street (2017)
The privileged life that Phoebe has enjoyed thanks to her investment broker husband Jake is shattered when he is arrested for ripping off his clients in a Bernie Madoff-like scam.
Phoebe has been with Jake ever since her teens and stands by him, even though her two children urge her to cut all ties. The story then backtracks to the 1960s when Phoebe and Jake first got together, and takes us through Jake's monumental rise after he sets up a private investment club that seems to never lose a dime.
The compelling story – told from both Phoebe and Jake's perspectives - focuses on issues of loyalty, ambition and greed as Jake is slowly entrapped by his web of deceit. But perhaps it takes too long to get to the fall from grace, when Phoebe, as the unsuspecting wife, is left to deal with the shame and accusations.

---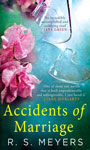 Accidents of Marriage (2014)
Married life hasn't turned out exactly how Maddy had expected. As well as a full-time job, managing the household and looking after three children, Maddy has to negotiate her husband Ben's moods. Unpredictable, volatile and aggressive, Maddy has learnt to walk on eggshells around Ben.
Then one morning as Ben once again finds himself pushed over the edge whilst driving with Maddy they're involved in an accident - an accident that will alter their lives completely.
Meyers has hit on a really fascinating subject matter in the novel - that of anger and its consequences within marriage - which makes for a compelling read, although I would have preferred to have seen more demonstration of Ben's anger before the accident to really get a sense of it.
The three-voiced narrative - of Maddy, Ben and eldest daughter Emma - gave a broader and more engaging perspective than would have been possible with a single narrative and allowed readers a much more nuanced relationship with Ben. I thoroughly enjoyed this exploration of marital and family dynamics and the questions it raises. (JC)