ROWAN COLEMAN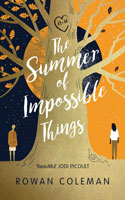 The Summer of Impossible Things (2017)
Physicist Luna has discovered a devastating secret about her late mother. With sister Pia, she heads to Brooklyn where their mother grew up to settle her affairs. Almost immediately Luna finds herself transported back to the summer of 1977, where she makes friends with her mother, a free-spirited and vibrant young woman who is very much in love with Luna's future dad. But an event is about to occur that will change her life forever so Luna is willing to do whatever it takes to change the course of history and give her mother a happier future.
This book is pure magic and not a single page disappoints as the reader is transported with Luna to the atmospheric Bay Ridge neighbourhood where Saturday Night Fever was filmed. With an intriguing premise and an emotional and engrossing storyline, I stayed up all night to find out what happened. It'd be near impossible to find a more captivating read – this is going straight to the classics shelf.

---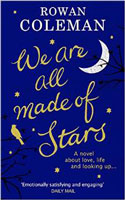 We Are All Made of Stars (2015)
Writing letters for patients at the end of their lives in her job at a hospice, Stella has the power to offer hope, pass on memories and build bridges. But in her own life, Stella finds herself unable to reach the one person she lives for - her husband. Returned home injured from Afghanistan, Vincent has become emotionally distant and difficult, and Stella finds herself unable to fix him. Twenty-one-year-old Hope is recuperating at the hospice. Suffering from cystic fibrosis, she understands her own mortality but when she meets fourteen-year-old Issy, she vows to make the most of her second chance at life. Hugh has a great job, a nice house and lives a comfortable, single life but even though he tries to ignore it, there is still a void in his life that was left when his mother died when he was ten. All of these characters are brought together by the hospice, a place not only of pain and sadness but of hope and love.
Rowan Coleman has delivered another astounding novel. From the first page, she manages the incredible feat of emotionally engaging her readers and continues to do so until the very last word. In Stella, Hope and Hugh, she creates three completely believable and authentic characters, and as if they are not enough, she punctuates each of their impressive narratives with the often moving, always heartfelt letters from other patients to their loved (and sometimes not loved!) ones. And despite the fact that this novel deals with loss, it's not one long sob-fest, but a beautiful balance between poignant, somber moments and uplifting, hopeful moments. Coleman takes you to the brink one moment and pulls you back the next, but the book's message is not one of despair and angst but aptly hope. I did have some slight misgivings about exactly what Stella sees as being her mistake in her relationship with Vincent, but really this is inconsequential in the wider context. For this is a memorable, brilliant book that celebrates love rather than mourns death. (JC)

---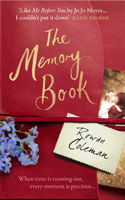 The Memory Book (2014)
Claire has been diagnosed with early-onset Alzheimer's - a disease that claimed her father. It is devastating news for the forty-something English teacher; her husband of only a few years Greg, as well as her two daughters, university student Caitlin and three-year-old Esther. With her not responding as well as could be hoped to drug treatment, Claire's mother, Ruth, returns to help take care of her. After her counsellor suggests she write a memory book, all the family pitch in, recording special moments and mementos such as Esther's birth and her wedding day.
Every so often authors write a book they will always be remembered for. The Memory Book is Rowan Coleman's. It's an emotional journey through a family coming to terms with the loss of their loved one far too soon. The mother losing her daughter in the same cruel way she lost her husband; the daughter on the cusp of adult life having to face a future without her mother's guidance; a loving husband having to deal with the fact he has become a stranger to his wife; and a young child who may never remember a normal childhood. And of course the woman who knows she soon won't remember how great her life really is. While the parts about how her disease is impacting the family are beautifully written, it is Claire's confused thinking - portrayed with both poignancy and humour - that makes up the heart of this book. It's a touching, sensitively handled and truly outstanding story.

---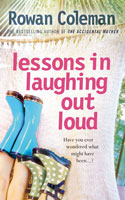 Lessons in Laughing Out Loud (2011)
Willow gets to see what her life could have been through her twin Holly's life. Unlike Holly who has the perfect figure, family and life, Willow lives alone and is scared on the inside of being loved. Ever dependable Willow has to coping with a movie star in crisis, when her ex-step daughter Chloe turns up on her doorstop as a full-grown teenager with her own problems. Along with Chloe comes reminders of Willow's past, and suddenly Willow realises she has to confront her own past and her own secrets so that she can move forward and for once start to laugh out loud. Willow as a chick lit character is great; she's down to earth and instantly likeable. There's also a few good men that seem to be taken with Willow, and it keeps you guessing as to who she is going to end up with. Willow's secrets are a little predictable, but they're really well done and make you warm to Willow even more. (AB)

---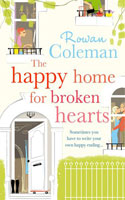 The Happy Home for Broken Hearts (2010)
When Ellen Woods' husband, Nick, is killed in a car accident, she discovers he has left their financial affairs in a real state. Facing big debts, Ellen needs to find ways to save the house so she and son Charlie can continue to live in the home they shared. Her sister Hannah suggests she bring in boarders to help meet the mortgage payments. Her first lodger, Sabine, works with Hannah and is separating from her two-timing husband. Next comes Matt, a sexy writer for a men's magazine who details his exploits with women. And her third lodger is Allegra Howard, Ellen's favourite romantic novelist. Because Allegra has been struggling to finish her latest novel, Ellen takes on the position as assistant. Ellen learns that what she thought was a happy marriage and a perfect life wasn't at all and through the new people that come into her home she realises life can start over and she can become the woman she was always meant to be. (CG)

---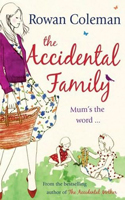 The Accidental Family (2009)
In this sequel to The Accidental Mother, Sophie Mills is in love with her life. She has a great guy, Louis, and two wonderful girls, Bella and Izzy. The only thing she would change is her ever-increasing waistline, caused by all the cream teas she eats with her new friend, Carmen, who owns a tea shop. Sophie has left her job to be in St Ives with the two girls and Louis and is staying at the local bed-and-breakfast while she and Louis sort out their wedding. Everything is perfect until one day, while she is out with Carmen looking at wedding dresses, when she sees a young man who looks so much like Louis. She asks the boy, Seth, who his mother is and that is when Wendy shows up. She and Louis had run into Wendy a few days ago where Sophie had learned that Wendy was Louis' first girlfriend. Sophie then realises that Seth is in fact Louis' son. Wendy warns Sophie not to tell Louis but how can Sophie keep such a big secret? A great follow-up story, which focuses on learning how to handle other people's baggage and discovering how much is too much to handle. (CG)

---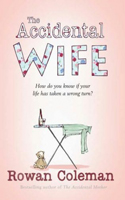 The Accidental Wife (2008)
aka Another Mother's Life
When Alison was 17, she ran off with her best friend Catherine's boyfriend. She later revealed to Marc that she was pregnant with their first child and together they built a life together. Meanwhile Catherine married musician Jimmy, the boy Alison always had a crush on at school. Now nearly half a lifetime later, Alison and Marc are moving back into town. And Alison can't help wondering if she ended up with the wrong man - and the wrong life. After several close calls - their daughters unwittingly become best friends - Alison and Catherine eventually meet up. Despite the pacing being a bit slow sometimes, this premise, with a few clever twists thrown in, will have you turning the pages to discover if the characters can forgive each other or will opt for a different life. Watch out for a brief appearance by Sophie Mills, the character from Coleman's The Accidental Mother and The Accidental Family series.

---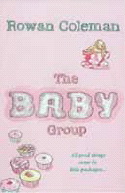 The Baby Group (2007)
Natalie Curzon, co-owner of a lingerie company, is drawn to stranger Jack Newhouse on the tube. She lets him whisk her away to Venice, where she conceives baby Freddie and then never hears from Jack again. Natalie faces up to single motherhood - pretty much alone, until her house wiring plays up, heralding the arrival of teenage mother Tiffany in the tradesman's van. Together they decide to form a baby group and soon meet some other parents, including stay-at-home dad Steve, over-anxious Jess, Meg who is on to her fourth child but still feels she has much to learn, and her sister-in-law Frances who is highly organised but lacking friends. Will Natalie ever find Jack to tell him he's a dad - and admit to her new friends that her work-away husband doesn't actually exist?

---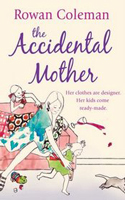 The Accidental Mother (2005)
Sophie Mills has worked hard on her career. Now she is at a point where she knows the next client will make her the director of her events-planning job. And she has no other outside distractions apart for her cat Artemis. One day she goes to work and is about to go on a date with Jake - the client who will make or break her career - when her whole life changes before her eyes. She finds out her best friend, Carrie, whom she has not spoken to for a couple of years has died in a car accident and has left her to care for her two children, Bella and Izzy. Sophie cannot believe this has happened to her. The social worker advises that it will only be temporary until they find the girls' father. So Sophie hires a private detective to find him as she tries hard to make sure her new charges do not disrupt her life too much. But once the girls' father comes back in their lives she starts to realise her not-so-complicated life really wasn't a life after all. This is a thoroughly enjoyable read about finding yourself through a life-changing event. (CG)

---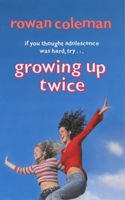 Growing Up Twice (2002)
Jenny, Rosie and Selin grew up together, getting dressed up for Friday nights, drinking too much and talking about boys. Now approaching their 30s, Jenny realises much hasn't changed over the past decade. She is still in her dead-end office job, still drinking too much and she's even got her eye on a wholly inappropriate boy, 18-year-old Michael. Then Rosie announces she's pregnant as Selin, the responsible one, increasingly draws away from them. Jenny realises it's time for her to grow up but it may just take a tragedy for this to happen.