ROBINNE LEE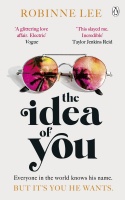 The Idea of You (2021)
Divorced single mum and art gallery owner Solene meets up with British boyband heart-throb Hayes when she escorts her 12-year-old daughter Isabelle and friends to an August Moon meet-and-greet in Las Vegas.
Despite being nearly twice his age, she feels sparks with band member Harry, I mean Hayes, and so begins their clandestine romance.
I couldn't help but read this entire novel picturing Harry Styles. The author has indeed admitted she took inspiration for her main man from a number of Brit boys, including the One Direction singer and Prince Harry.
Solene and Hayes shared captivating chemistry but a bit too much of the book was spent in bed (and other places), rather than on drama to keep the plot ticking along. But fans of rock star romances may well enjoy this tale of passion with a pin-up boy.

---