REBECCA THORNTON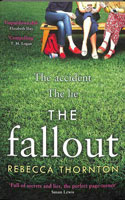 The Fallout (2019)
Friends Sarah and Liza are having a coffee at their swanky but family-friendly new fitness club. Liza, who is breastfeeding her baby daughter, asks Sarah to check on her son Jack, who is in the playground. But Sarah is distracted by Ella, another of the prenatal group mums who disappeared off the scene after their babies were born. And this leads to Sarah lying to her friend after Jack has a terrifying fall.
With guilt and friendship at its core, this book may appeal to those who like stories about the demands of parenting, schoolground politics and WhatsApp gossip.
I found it a strange story at times in that there was a lot of hoo-ha throughout about relatively minor incidents. The witness accounts told to the reporter also didn't seem realistic at all. While the narrative sometimes fell flat for me, I did like the way it wrapped it.

---