REBECCA SERLE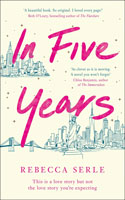 In Five Years (2020)
Dannie has always set herself five-year plans on her route to becoming a partner at a law firm. On the night she nails an important job interview and gets engaged to long-time boyfriend David, Dannie falls asleep and finds herself in another apartment, with a different ring on her finger and with another man. Then she realises it is five years in the future.
When she wakes again, she is back in her normal life with David. But then years later she is shaken to the core when she meets the man from her dream.
This had an intriguing premise which immediately hooked me in. But then it took a totally different direction to what I expected. But that was a good thing as it made for a better reading experience. The result is a very emotional story about love, friendship and destiny.

---