REBECCA RYAN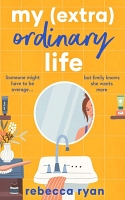 My (Extra) Ordinary Life (2023)
Teacher Emily is watching a TV documentary when she realises that she totally fits the bill for the average person. Her job, her name, her hair colour, her blood type – nothing about her is out of the ordinary.
So Emily decides to compose a Life List to become more extraordinary, and experience the sort of exciting life her twin Claire would have lived.
As Emily undergoes a number of challenges from volunteering in a charity shop, competing in a Tough Mudder, to eating a vegan diet, she is also determined to not fall in love. Because her age is the most common for people to meet their soulmate.
This was a wonderfully uplifting read full of Emily's entertaining exploits and her interactions with a cast of characters ranging from her best friend Kaz to her criminal colleague and her students. It was also heartbreaking with the scenes from her childhood and her continuing grief over the loss of her sister. Absolutely nothing ordinary about this debut.

---