REBECCA F. KUANG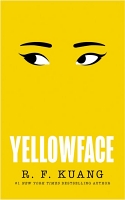 Yellowface (2023)
June Hayward and Athena Liu went to Yale together, and both got book deals. However, while June's novel barely made a splash, Athena became the new literary darling.
Although barely friends, Athena and June head out to celebrate her latest triumph, a Netflix deal, and she shows June the first draft of her latest novel, about Chinese laborers on the front during World War I.
But then things go awry, and Athena dies, allowing June to take her manuscript and submit it to her publisher as her own, under the name Juniper Song.
Yellowface has been one of the most anticipated and hyped books of the year, with its satirical look at the publishing industry and cultural appropriation.
This book had me engrossed for the first two-thirds. I really liked how the author portrayed June's guilt and justifications to herself about what she had done, and also thought she deftly handled why no one else would know much about Athena's work-in-progress. And the Twitter pile-ons were so true to life. But the ending was really disappointing and cast a shadow over how I perceived the whole book.