RADHIKA SANGHANI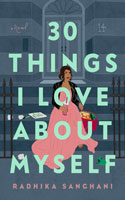 30 Things I Love About Myself (2022)
The night before her 30th birthday, freelance journalist Nina finds herself under arrest and in a holding cell. Reading a book given to her by a sympathetic police officer about self-love, she has an epiphany about turning her life around.
Having recently broken up with her fiance and moved back in with her mum, Nina decides by her next birthday to find thirty things she loves about herself.
This book gets off to a hilarious start, and then follows Nina on her spiritual journey as she deals with her stalled writing career, the Indian culture of high expectations, a family history of depression, and a dwindling pool of friends. Many will be able to take inspiration from Nina's story - for me, it was a great way to kick off the new year.

---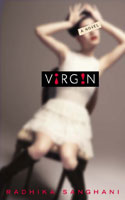 Virgin (2014)
University student Ellie believes she is probably the only 21-year-old virgin out there. And it's not that she hasn't tried, she just seems to have had bad luck on that front.
Without a boyfriend on the horizon - and one awful near-miss experience to her name - Ellie is determined to go out and lose it via a one-night stand. But things don't turn out as she planned.
So Ellie, an aspiring writer, starts an anonymous blog with her well-experienced friend Emma talking about everything from waxing mishaps to doing it at that time of the month.
This book will no doubt polarise readers. It is obviously rather crude due to its subject matter and Ellie is so obsessed with sex that, as a character, she doesn't really develop beyond that. But this no-holds-barred look at a girl coming to grips with her budding sexuality is well-written and refreshingly funny.