RACHEL WINTERS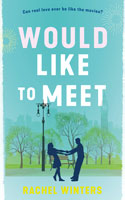 Would Like to Meet (2020)
Evie has been an assistant at a film agency for ages and wants to move up to become a fully fledged agent. But first she needs to convince Oscar-winning scriptwriter Ezra Chester (aka the NOB) to deliver his rom-com script on time. He bargains with her: if she shows him that she can fall in love like they do in the movies, via a number of meet-cutes, then he'll get writing.
So Evie starts sending him reports on her various movie-inspired experiments, starting with the spilling of a drink which gets way out of hand and introduces her to Ben, a widower, and his young daughter.
This is a funny, feel-good debut, perfect for rom-com movie fans. It provides a refreshing return to traditional chick lit, with an assistant being taken advantage of at work, a circle of supportive friends, and the search for Mr Right which turns up Mr Wrong. A couple of the scenes were a bit too over-the-top though.

---