RACHEL GREENLAW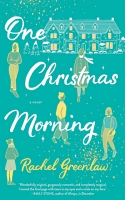 One Christmas Morning (2023)
Eva's about to open the retail business she's been throwing herself into for the past year or so. She still has so much to do but it's Christmas and she's promised her husband James that she'll spend the festive season with their friends Hallie and Kian, who have hired the Cornwall manor house that Eva used to go to when she was a kid.
Eva's overworked assistant, Diana, offers to drive her there, and when the snow comes in early, Diana gets stuck there too.
At midnight, Eva – who's been too preoccupied with work to enjoy her friends' company - comes upon the ghost of her dearly beloved Gran and finds she has to relive Christmas Day over and again, in the body of those around her so she can understand how her workaholic and distant attitude affects the ones she loves.
This premise – which is sort of a mashup of Groundhog Day, A Christmas Carol and Freaky Friday – was enough to draw me in. It's not a particularly Christmassy book despite when it's set, nor is there any humour around the time-slip, body-swap scenario. Instead it's quite the emotional journey as Eva has to learn some life lessons and her misfortunate back story is revealed. There were a few elements of the plot or characters' stories that left me wanting though.