RACHEL GIBSON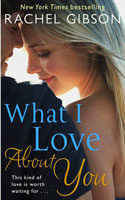 What I Love About You (2014)
High school sweethearts turned husband and wife, Natalie and Michael Cooper, were Truly, Idaho's power couple. When they finally conceived their first child, after years of fertility issues, it was supposed to cement their relationship even further. But Michael had been keeping secrets and walked out on Natalie to start life with a new girlfriend, with fraud charges hanging over his head. With Michael now imprisoned, Natalie and daughter Charlotte are their own dream team and perfectly capable without a man. The last thing Blake Junger, Natalie's new neighbour, wants is the responsibility of a mother and her child, but Charlotte wants to make friends and Blake can't help but appraise her mother. After being so ceremoniously dumped by Michael, Natalie only wants total commitment, whilst Blake knows no other way but no-strings-attached. As a hot contemporary romance, Rachel Gibson hits the right notes. Throw in some cute moments from daughter Charlotte and it's an affirming read about family. However, the story itself is somewhat flat, with no real crisis and little plot development. Both Blake's alcoholism, which is outlined at the start, and Michael's release, which occurs about halfway through, offered interesting points for elaboration and dilemma but neither were really fulfilled. Similarly, the relationship between Natalie and Blake progresses really quickly and everything just seemed too uncomplicated and neat. (JC)

---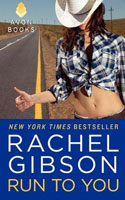 Run to You (2013)
Stella Leon is a flighty bartender working in a seedy bar in Miami. Beau Junger, a former Marine, owns his own security firm. He has been hired by Stella's older half sister, Sadie, to find Stella and bring her from Florida to Texas to reunite the sisters. Beau, a former womanizer, is finished with one-night stands and has promised himself that he will not have sex again until he meets the woman he will marry. Twenty-eight-year-old Stella is waiting until her wedding night to lose her virginity. The story follows Stella and Beau as they road trip through the South, with Beau's disciplined mannerisms and Stella's unorganised chaos conflict at every turn. Eventually conflict turns to lust, and these two characters find it hard to keep their hands off each other. This book is totally unrealistic and unfortunately a quickly read and quickly forgotten novel. (AO)

---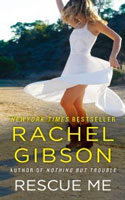 Rescue Me (2012)
Sadie Hollowell left small-town Lovett, Texas, years ago and has never looked back. A cousin's wedding and a much overdue visit to her father drags her back for a short visit. Vince Haven, a former Navy Seal in Afghanistan, is visiting his eccentric aunt in Lovett. Sadie helps him out by driving him into town when she finds him standing by his broken-down car on the side of the road. To repay the favour, Vince reluctantly agrees to be Sadie's guest at her cousin's wedding. Sparks fly immediately and Sadie and Vince, who are both not interested in a relationship, agree to a short fling. Suddenly, Sadie's dad gets injured and her visit is extended and Vince contemplates a business deal that would make Lovett, Texas, his permanent home. So the pair are quickly forced to reevaluate their no-strings-attached relationship. Even with a predicable story line, this novel is a perfect read for the beach. Fans of Rachel Gibson will immediately recognize Vince as Autumn's brother in Any Man of Mine. (AO)

---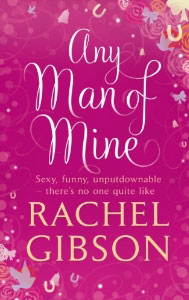 Any Man of Mine (2011)
Sam and Autumn had a short-lived Vegas romance and marriage that ended with a quicky divorce and Autumn being alone and pregnant. Fast forward six years and Sam, a professional hockey player for the Seattle Chinooks, is a weekend dad to his son, Connor. Unhappy with his distant relationship with his son, Sam starts to spend more time with him. Autumn has never been able to forgive Sam for abandoning her, however, as Sam slowly changes, they both realise that sometimes love deserves a second chance. (AO)

---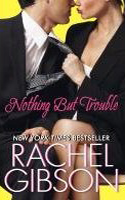 Nothing But Trouble (2010)
Ten years of pent-up disappointment at trying to break into the Hollywood movie scene is enough to push struggling actress Chelsea to the brink of breaking. She heads to Seattle to visit her sister, Bo, the PR agent for ice hockey team the Chinooks (this is Gibson's fifth title based around the team). Chelsea is offered a personal assistant's job - to help former superstar Mark Bressler recover over three months. With the bonus cheque of $10,000 in mind, and the hope of changing her life, Chelsea is determined to get Mark back on track. The entire storyline and the characters were disappointing - the book focused too much on the sexual tension between Chelsea and Mark, and became less engaging as the story progressed. One for her fans perhaps? (XT)

---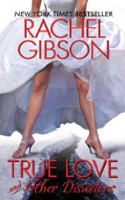 True Love & Other Disasters (2009)
Faith thought that her past as a former stripper and Playboy star would be left buried after her marriage to Virgil Duffy, who is 51 years her senior. (Remember the guy who was set to marry another trophy wife in Simply Irresistible?) She wanted to start life afresh, and with Virgil, the only person to understand her and treat her with respect, he gave her what she yearned for the most - security. So when he dies of a heart attack five years into their marriage, Faith is devastated. After being humiliated by Virgil's son Landon about her ugly past, he claims she has no hope of managing the professional hockey team his father left behind. But despite knowing nothing about the game, Faith decides to take on the challenge and prove him wrong. Star player Ty Savage fears Faith will ruin the reputation of his hockey team and wreck its chances of winning the Stanley Cup. But soon sparks fly between the pair and they find themselves falling in love. But when Landon threatens to spread the news of their relationship, will Faith choose to give up her true love to save the team from the negative publicity? Not one of the author's best books but it's worth reading because of its refreshing mix of characters and storyline. (XT)

---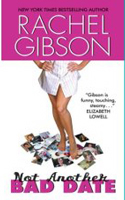 Not Another Bad Date (2008)
Fantasy novelist Adele Harris heads back to her Texan hometown after her sister's husband ups and leaves her. And it's lucky she's on hand because Sherilyn is admitted to hospital with pre-eclampsia halfway through her pregnancy and Adele needs to look after her teenage daughter Kendra. It is while picking Kendra up from a friend's house that she runs into her former boyfriend and now high school gridiron coach Zach. His wife Devon - Adele's schooldays nemesis - died a few years earlier in a car accident. But Adele is not keen to embrace love the second time round - especially as she believes she is cursed to always have bad dates. This is the fourth book in the series based around four writer friends and reveals the reason behind Adele's bad run of dating luck.

---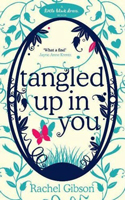 Tangled Up in You (2007)
Maddie Jones is a true crimes writer. Her current research is into a case of a married man who has an affair with a young waitress. When his wife finds out he is going to leave her and their two small children, she goes crazy and kills her husband and his mistress and then turns the gun on herself. Maddie's mother was the waitress. Maddie moves to the small town where she was orphaned years ago to uncover the truth. Her research takes her to Mick Hennessy, the son of the man who her mother was having an affair with. Maddie keeps her true identity a secret as she gets to know Mick. As Maddie and Mick spend more time together and start to fall for each other, Maddie knows she will lose Mick when he finds out the truth. (AO)

---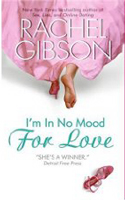 I'm in No Mood for Love (2006)
Clare Wingate wakes up the night after her best friend Lucy's wedding in a hotel room wearing only a pink thong. She panics when she hears water running in the bathroom and sees a faded pair of Levi's thrown across a small couch. Before she can escape, sexy Sebastian Vaughan, her crush from years ago, strolls out of the bathroom. Clare recently caught her fiance with the Sears serviceman, so the last thing she needs is a rebound relationship. Clare and Sebastian keep finding themselves thrown together and Clare fights with all her might to deny their chemistry. (AO)

---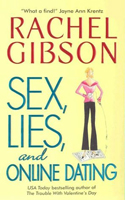 Sex, Lies, and Online Dating (2006)
Lucy Rothschild is a mystery writer. As research for her next novel, Lucy has been dating countless losers through online dating sites. When "hardluvnman" convinces her to meet him for a date, Lucy is shocked to meet Quinn, a sexy plumber. Lucy lies and tells Quinn she is actually a nurse. Quinn is actually a cop who is working undercover to hunt a female serial killer. The police believe the serial killer is a woman who meets her victims through online dating sites and then ties them up during sex and kills them. Lucy is the number one suspect and Quinn's undercover assignment is to become her next target. Quinn is determined to keep his mind on his job, however, every time he is with Lucy he has a hard time remembering that she could be a cold-blooded killer. This is a fun story but totally predictable. (AO)

---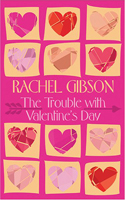 The Trouble with Valentine's Day (2005)
Kate Hamilton suddenly quits her job as a private investigator in Las Vegas and moves to small town Gospel, Idaho, to help her widowed grandfather run his grocery story. On her way to Gospel, Kate stops in a ski lodge and attempts to live out her fantasy of having a one-night stand with a handsome stranger. Her efforts are immediately rejected. Rob Sutter, a former Chinooks hockey player, was forced to retire after a crazy stalker shot him. He moves to Gospel to be near his mother and open a sporting goods store. When Rob walks into Kate's grandfather's grocery store, Kate is mortified to learn that Rob is the handsome stranger who rejected her. Unfortunately, Kate's efforts to stay clear of Rob are hampered by the fact that her grandfather and Rob's mum are becoming romantically involved. Although the storyline is far-fetched, readers will appreciate the light-hearted romance that begins and ends on Valentine's Day. (AO)

---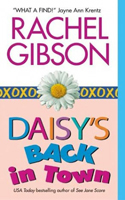 Daisy's Back in Town (2004)
Daisy Monroe left her small Texas town 15 years ago while she was still a teenager. Now, after the death of her husband Steven, Daisy returns to Texas with her son. She is determined to mend her friendship with Jack Parrish, the man she has never been able to forget. Jack still feels angry and hurt that Daisy and Steven rushed off to the altar years ago. Jack is determined to keep his distance from Daisy, however, the sparks between them keep pushing them together. This is a fun steamy novel that you can finish in a night. (AO)

---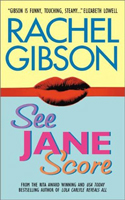 See Jane Score (2003)
Journalist Jane Alcott writes a single girl in the city column in Seattle. To supplement her income, she also writes a wildly popular raunchy column for a male magazine. When Jane is given the chance at a long-term assignment, she jumps at the opportunity. Unfortunately, the assignment involves travelling and reporting on the Seattle Chinooks professional hockey team. Luc Martineau is the bad boy goalie for the Seattle Chinooks. He refuses to give interviews and makes his hatred of reporters immediately clear to Jane. The constant sparring that Luc and Jane engage in eventually leads to the inevitable passion between them. When Jane's identity as the author of the raunchy male column is revealed, it threatens to destroy any relationship that Luc and Jane have. This plain Jane meets hot athlete storyline is overdone, however, the characters are truly likeable and I found myself rooting for a happily-ever-after conclusion. (AO)

---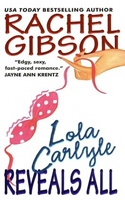 Lola Carlyle Reveals All - Rachel Gibson (2002)
After private photos of ex-lingerie model Lola Caryle flood the internet, Lola hides out with her dog Baby on a quiet yacht in Nassau Harbor. Max Zambora, an undercover secret agent for the government, narrowly escapes death after his mission to take down a drug cartel goes awry. Max commandeers Lola's yacht and Lola's efforts to stop Max result in them being stranded on the yacht during a storm. As they spent their days and nights arguing, the attraction between them is inevitable. When they are finally rescued, Max's commitment to his job threatens to jeopardise any future he has with Lola. This is a far-fetched storyline that borders on ridiculous.

---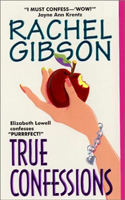 True Confessions (2001)
Hope Spencer, a tabloid reporter from Los Angeles, escapes to Gospel, Idaho, for some rest and relaxation. Dylan Tabor is Gospel's sexy sheriff and the most eligible bachelor in town. As Hope spends time with Dylan and his son Adam, the sparks start to fly, however, when Hope and Dylan both learn the secrets they have kept from each other, it quickly threatens their happily ever after. While extremely predictable, this novel is still cute and humorous. (AO)

---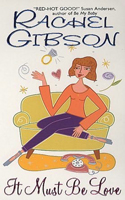 It Must be Love (2000)
Gabrielle Breedlove is convinced she is being stalked by a hunky man. At the park one day she attacks her stalker with a can of hairspray. It turns out her "stalker" is actually Joe Shanahan, an undercover cop investigating a stolen Monet painting. The police suspect Gabrielle's business partner, Kevin Carter, the co-owner of a curio shop. The cops threaten Gabrielle that if she doesn't cooperate with them, they will convict her of assaulting a police officer. Gabrielle reluctantly agrees to allow Joe to pose as her boyfriend and do some handyman work in the curio shop to find evidence of the stolen Monet. Gabrielle is convinced of Kevin's innocence and finds the whole scenario ridiculous. She is a new-age hippie who would never date a straight-laced, yet totally irresistible, cop. A few fake kisses to convince Kevin of their relationship leave both Joe and Gabrielle breathless and fighting their mutual attraction. This is a predictable read with cute characters that will entertain you for a few hours. (AO)

---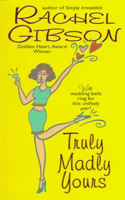 Truly Madly Yours (1999)
Delaney Shaw returns home to Truly, Idaho for the first time in years to attend the funeral of her stepfather. As a young girl, Delaney's mother married the adored mayor of Truly so Delaney grew up as the spoiled adopted daughter of the most respected man in town. Nick Allegrezza was the illegitimate son of the mayor. Nick lived his childhood rejected by his birth father and being the token bad boy of the small town. Growing up, Delaney and Nick had a strained relationship of jealousy and curiosity. One night as teenagers, Delaney and Nick's relationship turns into a night of unforgettable passion and humiliation. Fast forward many years, and Delaney finally sees Nick at her stepfather's funeral. Delaney has no plans on sticking around and rehashing the past with Nick, however, due to a stipulation in her stepfather's will, she will be staying in the small town for longer than she ever expected. Nick and Delaney do their best to avoid each other, but the past seems to keep catching up with them. I found the book to be rather predictable with lukewarm, forgettable characters. (AO)

---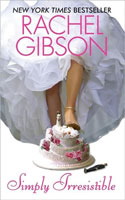 Simply Irresistible (1998)
Twenty-two-year-old, Texan-born Georgeanne Howard is set to marry Virgil Duffy, the wealthy owner of the Seattle Chinooks professional hockey team. The day of the wedding, Georgeanne suddenly realises that not for all the money in the world could she marry an elderly man who reminds her of Ross Perot. She leaves him at the altar and runs out of the wedding in her ridiculous shrink-wrapped satin dress. One of Virgil's hockey players, John Kowalsky, unknowingly helps Georgeanne escape. A night of mistakes and passion occurs and Georganne finds herself being driven to an airport the next morning for a flight back to Texas. John has made it clear that he won't risk his hockey career for her. Fast forward seven years and Georgeanne's career has brought her and her six-year-old daughter back to Seattle. A chance encounter between Georgeanne and John alters both of their lives. John must decide if he is willing to risk his career for his heart. This is the first novel in the author's popular series about the Seattle Chinooks. (AO)