RACHEL DOVE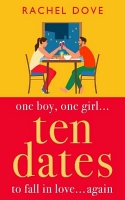 Ten Dates (2023)
Alice wakes up from a coma after a car crash to find she has lost her memories from the past few years. This includes the fact that Callum is no longer just her brother's annoying friend – he is now her boyfriend who lives with her in the house she was renovating.
Callum, who has been by her bedside since the accident, vows to help her fall back in love with him again by recreating their first ten dates.
This was a sweet story that puts a different spin on the lost-memory and second-chance-at-love storyline. If anyone is looking for an almost too-perfect-to-be-true hero, here he is with Callum's devoted and patient attention to Alice. But perhaps it needed more of Alice trying to get things back on track in other areas of her life.