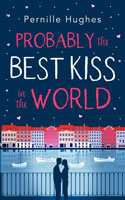 Probably the Best Kiss in the World, by Pernille Hughes, is a story about beer brewing, a kiss and going with the flow.
The summary says: "Jen Attison likes her life Just So. But being fished out of a canal in Copenhagen by her knickers is definitely NOT on her to do list.
From cinnamon swirls to a spontaneous night of laughter and fireworks, Jen's city break with the girls takes a turn for the unexpected because of her gorgeous, mystery rescuer.
Back home, Jen faces a choice. A surprise proposal from her boyfriend, 'boring' Robert has offered Jen the safety net she always thought she wanted. But with the memories of her Danish adventure proving hard to forget, maybe it's time for Jen to stop listening to her head and start following her heart..." Probably the Best Kiss in the World is out in April 2019.
TEXT