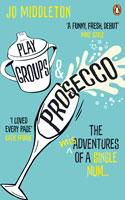 Playgroups and Prosecco – Jo Middleton (2019)
If you are looking for an hilarious and honest read, then this is for you. Told in the form of a diary, it's the story of Frankie, a woman in her late thirties, who is divorced and has two daughters. She works part-time for a museum, a job she hates mostly because of her arrogant boss, she spends most of her time cleaning up after her daughters, eating Jaffa Cakes, drinking wine, and trying, unsuccessfully, to find the perfect match on Tinder.
Add snobby mothers at the local playground, mothers on Instagram who seems to lead a perfect life, and a toddler with no boundaries, and you have a funny and entertaining novel that will keep you glued to the pages. The protagonist feels likable and realistic and her stories are relatable and will make you laugh page after page. (NP)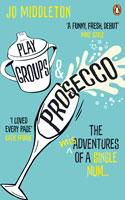 Playgroups and Prosecco is the debut novel by Jo Middleton, from the parenting blog Slummy Single Mummy.
The summary says: "January 3rd: Jaffa Cakes - 7.
Times I was forced to watch a small child do a dance involving a dusty piece of ribbon found under the sofa - 4.
Inappropriate thoughts about Zac Efron - undisclosed.
Single mum Frankie's whole life revolves around her kids. But when your toddler has a more active social life, something has to change. Forget 'me-time', Frankie would settle for some adult conversation, and watching something other than the Disney channel.
The local playgroup may be ruled by Instagram mums with perfect husbands but Frankie accidentally forms a splinter group of single parents. After all, Mummy really needs a playdate of her own. (Now pass the prosecco.)" Playgroups and Prosecco is out in March 2019.