PHOEBE LUCKHURST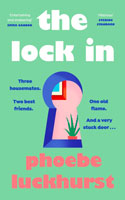 The Lock In (2021)
Nursing a hangover, Ellen has just woken up when she realises a leak is flooding the kitchen. She heads for the attic to find a way to turn off the water before alerting her flatmates Jack and Alexa. Alexa is very sensible and would definitely know how to handle this crisis but it appears she has company in her bedroom, in the form of Ben, a guy she met through a dating app.
As the four of them gather in the attic, a gust of wind blows the door shut and the handle comes off in Ben's hand. They are stuck, with a skylight and sporadic wi-fi their only connection to the outside world.
As they wait for help, Ellen discovers Ben may not be a stranger after all.
This was an amusing enough tale but not a lot happens. I enjoyed the MSN messaging flashback scenes the most.

---