PHAEDRA PATRICK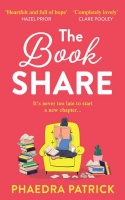 The Book Share (2022)
aka The Messy Lives of Book People
Cleaner Liv has always loved books and one of her clients is her favourite author, the reclusive Essie Starling.
When Essie dies, Liv is informed that her death will be kept secret for six months and that she is expected to finish writing the final novel – because who else knows as much about Essie's plucky heroine Georgia Rory than Liv who repeatedly reads all 19 novels in the bestselling series.
With a journalist on the trail of a story, Liv has to cover for the missing author all while discovering more about Essie's past to reveal her true love and close out the final chapter.
I really enjoyed this uplifting story that sees Liv grow in confidence as she resumes her childhood dream of being a writer.

---