PERNILLE HUGHES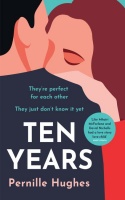 Ten Years (2022)
When Ally died, she left behind a heartbroken fiance Charlie and best friend Becca who don't get along at all.
And now they have been tasked with scattering her ashes while doing a bucket list activity each year, such as hiking a mountain and camping out at a music festival.
This story tracks the ten years from Ally's funeral as Charlie and Becca come to terms with her death and find they may want one another in their future life after all.
I really enjoyed both the premise and writing, with its mix of emotion and humour. A lovely read.

---