PAIGE TOON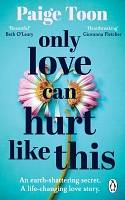 Only Love Can Hurt Like This (2023)
Witnessing a glance between her fiance and his co-worker, Wren realises that he's in love with her. Three months later, Wren heads to Indiana to stay with her father and his wife on their farm and reunite with her newly married half-sister, Bailey.
Cutting through a field on her way home from a night out, Wren runs into Anders from a neighbouring farm. She is immediately captivated by him but he seems to be holding back.
Toon takes her readers right into the evocative settings of rural Indiana, with its tornadoes, tractors and cornfields, and weaves a beautifully written and mesmerising tale of heartbreak and exclusion. There's a twist at the heart of Anders' story but it sometimes felt all a bit too melodramatic.

---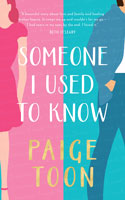 Someone I Used to Know (2021)
With her young daughter in tow, Leah returns to her family's alpaca farm in Yorkshire after her father's death. But her husband, Theo, isn't with them. However George, one of the many children that her parents fostered over the years, is back – the first time Leah has seen him since they were teenagers.
This very heartfelt story is set across two different timeframes – when Leah was a teen and first met Theo and George and now. It offers a positive, uplifting depiction of the foster care system, portraying Leah's parents as such amazing and admirable people. With characters who will always hold a place in your heart as well as not everything being as you think, this all adds up to a fantastic read.

---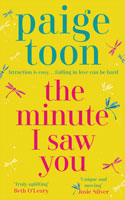 The Minute I Saw You (2020)
This is the story of when Hannah met Sonny. Sonny, a photographer, is deep in therapy and must work through his issues and to do that, he's committed to at least six months of celibacy. But this doesn't prevent the attraction between the pair developing. However, as we grow to love Hannah, a dispensing optician, we learn she's also sworn off relationships but for very different reasons.
Toon has thrown together two damaged souls who fall in love and find the freedom to release their demons. It's a fabulous romance but what makes this novel great, other than the beautiful setting of Cambridge in the UK, is the unique characters the author has developed including their very interesting pasts.
Along with a wonderful cast of supporting characters and Bertie, the Labrador, Toon successfully delivers surprising depth to this novel. And there's a twist, and it's good! The relationship is a slow build but it's worth the wait. Highly recommend. (LF)

---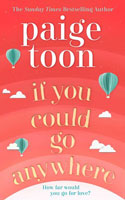 If You Could Go Anywhere (2019)
Paige Toon takes readers on a fantastic journey from Australia to Italy to Norway. Angie has spent her life in a small mining town in the Australian outback dreaming of travelling around the world. After her grandmother passes away, Angie finds out the truth about the father she never knew so boards a plane and heads to Rome to meet him. Here she meets dark and handsome Alessandro, a man with secrets and a troubled past, Cristina and Stefano, her new friends, and the rest of the family she didn't know she had.
Thanks to the author's beautiful and detailed descriptions, the reader discovers delicious Italian food and goes on a journey all around Italy, from Rome to Pompeii, and Venice to Florence. I loved the character of Angie who is selfless, genuine, realistic, and very likable and her journey of self-discovery will keep you completely captivated. If you are a fan of Paige Toon, this is a must-read, and if you still haven't discovered her novels, what are you waiting for? (NP)

---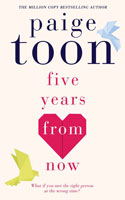 Five Years From Now (2018)
When she is five years old, Nell finds a boy in her room, sitting on her bed. She doesn't want Vian there but he is Ruth's son, his father's new girlfriend, and they have just moved in to live with them. At first, Nell isn't happy about the arrangement, but she is soon fond of Vian and she is sad to leave him behind when, at the end of the holiday, she has to go back to London to live with her mother. Five years later, Nell lives with her father in Cornwall and her relationship with Vian grows stronger everyday. When a terrible accident separates them, Nell's world is shattered. They meet again five years later, and then five years later, and so on, every five years, but fate and circumstances continue to keep them apart.
I cried so much throughout this novel. It was sad to read how Nell and Vian (who becomes Van) could never manage to be together. I loved these characters and their stories and I loved growing with them, page after page. Once again, Paige Toon wrote a brilliant, addictive and heartbreaking novel, and I am already looking forward to her next one. (NP)

---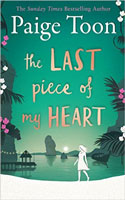 The Last Piece Of My Heart (2017)
Bridget travels the world in search of her ex-boyfriends to reclaim the piece of her heart she left with them. These are the men she loved and she is looking for closure so she can focus on her relationship with her Australia-based boyfriend, Elliot. She writes about her experience on her blog which she hopes one day to turn into a book.
In the meantime, her agent proposes that she ghostwrite the sequel of a bestselling novel left incomplete after the sudden death of the young author, Nicole Dupre. So Bridget finds herself spending two months in Cornwall researching for the book and trying to learn more about Nicole. As she goes through Nicole's notes and diaries, Bridget spends more and more time with her still grieving husband Charlie and their baby daughter April.
I loved everything about this book. The story is moving, refreshing and beautifully written. The author perfectly balances emotions and humour and creates amazing characters in Bridget, Charlie and April. I fell in love with these three characters and I was completely glued to the page as Bridget and Charlie's relationship develops. It's one of these books that stay with you even after you've finished reading and I am really keeping my fingers crossed for a sequel. (NP)

---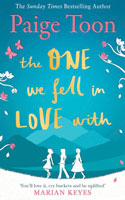 The One We Fell in Love With (2016)
At the age of seventeen, identical triplets Phoebe, Rose and Eliza discover that DNA is not all they share, when Angus Templeton moves in next door and all three of them fall in love with him. But there's only one Angus, so Phoebe, Rose and Eliza know they can't all have him, at least not permanently.
Paige Toon transforms the usual chick lit conventions with the inclusion of triplets – this is not guy meets girl, but guy meets three girls! And Toon makes sure that equals three times more drama. There was a sense in which the romantic outcome was somewhat signposted but there were no signposts at all for the twist at the heart of the book. It is so cleverly written that it is completely disguised, which makes it all the more earth-shattering when it is revealed.
And despite the potential pitfalls of writing triplets, Toon manages to make Phoebe, Rose and Eliza very distinctive and separate characters. She also largely succeeds at pulling off the feat of making the triplets' relationships with Angus real and substantial without becoming awkward or uncomfortable. But it is the triplets who are very much the stars of this book and it is testament to Toon's vision and skill as a storyteller that she pulls this off so brilliantly. This is a unique, special book. (JC)

---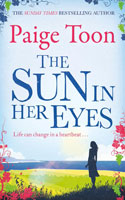 The Sun in Her Eyes (2015)
When Amber's father has a stroke, she leaves behind her husband, Ned, in London and flies home to South Australia. There she meets back up with her old friend, winemaker Ethan. With him now single after a failed marriage, she is forced to compare her strong feelings for him with her own relationship with Ned, and wonders whether she wants to return to England at all. Amber's mother was killed in a car crash when she was three, and Doris, the woman who came across the scene, is trying to track her down to pass on her mother's last words.
Although I was surprised Doris' search for Amber was only a minimal part of the storyline, the book's real strength lies instead with Amber's relationships - with her stepmum Liz and the men in her life - her father, Ethan and Ned. Toon does a fantastic job of altering readers' perspectives of these characters along the way.

---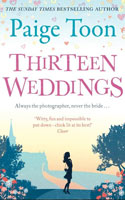 Thirteen Weddings (2014)
Bronte has a bit of an unfulfilled life working as a picture editor at a magazine and spending her spare time with her flatmate Bridget. With a keen eye for photography, Bronte is roped in by Rachel, a wedding photographer, when Rachel's assistant is ill. Bronte is rapidly thrown into the world of bouquets, brides and churches - her biggest fear.
Trying to overcome the fear of churches and take impressive photos of wedding days turns into a more permanent hobby for Bronte and when she meets Lachie, a wedding singer, she begins to enjoy life a little more. But when an old one-night stand, Alex, turns up on the scene (who Bronte hasn't really ever got over) and begins to become a more lasting feature in her life, Bronte has to rethink everything she has ever thought about love, marriage and commitment.
It was a pleasure to be back in Paige's world with her characters, her writing and her sublime plots and, I know I say this every year, but Thirteen Weddings is her best book by far - very emotional and addictive. The characters go on such a journey and interact so perfectly together that you can't help but become emotionally attached to every single one and I was hooked right from the start.
This book has an almost love triangle feel to it and, much like Johnny and Christian in Johnny Be Good, you just cannot choose between either man - you want both of them to win the heart of the heroine. Alex and Lachie are polar opposites but have such a sense of needing to look after Bronte that they find it hard to accommodate each other - it becomes a bit of a testosterone-fuelled battle to see who can win the girl. Bronte was a really great protagonist and I loved her inability to make up her mind because it meant that as a reader, I also found myself unable to decide what I wanted to happen in the end. The book was perfectly paced, there was the perfect level of surprise and tension, and of course the much-needed humour and wit that Paige is known for. Flawless! (LL)

---
The Accidental Life of Jessie Jefferson (2014)
Jessie Pickerill has always wondered who her real dad is but her mom has always refused to tell her. When Jessie's mum dies unexpectedly, leaving her with stepdad Stu, not only does she mourn the loss of her mum but also any chance of finding out about her real dad. Despite Stu continuing to play the role of her guardian, Jessie feels alone and seeks comfort in a new group of friends, testing Stu to the limits.
When Jessie confronts him about her real dad, she gets more than she bargained for. Her father is none other than rock star Johnny Jefferson (from Johnny Be Good and Baby Be Mine). But will Johnny be interested in getting to know the fifteen-year-old daughter he didn't know existed now he has a new family? A trip to LA will help answer those questions.
Paige Toon's first foray into young adult territory proves to be a winner. Jessie is a real, believable character, struggling in the aftermath of her mother's death and, like any teen, there are times when she's frustrating and unlikeable. The story is fun and exciting, with the right amount of drama and attitude, the Hollywood kids' scene is toned down but nevertheless escapist and eye-opening, but it is Johnny's role as Jessie's father and the growing relationship between them that adds the charm to this novel.
Although there were things I would have liked to have seen more of - Johnny and Meg's reactions to Jessie; father-daughter-stepmum bonding; the effect on Stu and Jessie's relationship - for teens it's a perfect read. And with plenty more left to explore, it's definitely exciting to see what Paige has in store for Jessie next. (JC)

---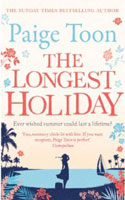 The Longest Holiday (2013)
Laura first made an appearance in Paige Toon's book Chasing Daisy, where she was dating a racing car driver named Will. She never thought she'd find love again after Will died in an accident. That is, until she met Matthew. After seven months of wedded bliss, Laura discovers that Matthew made a life-changing mistake a week before they walked down the aisle. Desperate to get away and clear her head, she goes on a two-week vacation to Key West in Florida with her friends, Marty and Bridget.
Laura's feelings become more complicated when she starts to fall for Leo, a sexy scuba instructor who lives beside the hotel she's staying at. After the two weeks are up, she doesn't want to go home. Feeling torn, Laura struggles to decide whether she should work things out with Matthew, or follow her heart and stay with Leo.
This charming love story made my heart flutter (Leo is seriously hot and adorable). Key West sounds so quaint and beautiful, and I felt empathy for Laura throughout. Paige Toon throws in unexpected plot twists; be prepared for a dramatic ending! (CK)

---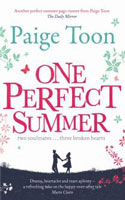 One Perfect Summer (2012)
Alice is spending her last summer holiday before university staying at a cottage in Dorset with her parents. At the local pub, she spies the gorgeous bartender Joe, whose parents run the venue. The two teens start spending all their time together but Joe's family are far from welcoming.
After a heartbreaking incident, the pair is split up and Alice goes off to Cambridge, hoping Joe will visit her. But he never does. Instead she meets Lukas, a student from a wealthy German family. Should she move on with her life with Lukas - or wait for her first love to come back? The story - split into three main timeframes - is simply enchanting, although the end section seemed somewhat rushed.

---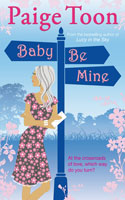 Baby Be Mine (2011)
This is the much-anticipated sequel to Johnny Be Good, which saw ordinary girl Meg become personal assistant to bad boy rocker Johnny Jefferson in LA. That novel left on a cliffhanger, with Meg pregnant but not sure who the baby daddy was. Now with her son Barney turning one, it is becoming more evident that he looks not like Meg's live-in writer boyfriend Christian but instead like his rock star friend. And Meg is wracked with guilt and wondering how long her son's paternity can stay a secret. Johnny, meanwhile, is in and out of rehab and dating out-of-control party girl Dana so doesn't look like a good prospect for fatherhood.
I found this a disappointing sequel with overwrought emotions and stilted writing. It has been several years since I read the first book so it might be my memory but Meg seemed like an entirely different character. At one point, when we popped into a motor racing event to catch up with Luis from Toon's Chasing Daisy novel, I was sort of hoping Johnny was going to come to a fiery end.

---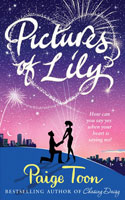 Pictures of Lily (2010)
English schoolgirl Lily arrives in Australia, as her mother pursues yet another romance. They move in with Michael, who gets Lily holiday work at the local conservation park. There she falls for sweet-hearted koala hander Ben - only problem is he's 12 years older and about to join his fiancee in England. Ten years later, when Lily's boyfriend Richard proposes, she can't help but wonder about Ben.
With the story split into the two time zones, the budding romance between Lily and Ben was really sweet but the second half dragged towards its predictable conclusion. And as usual, watch out for mentions of previous Toon characters - from Lucy and Nathan, to rock star Johnny and racing car driver Luis.

---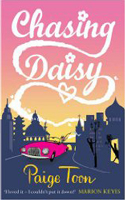 Chasing Daisy (2009)
After getting her heart broken, Daisy Rodgers flees America in the hope that putting as much distance between herself and her ex will help speed up her recovery. Jumping at the chance to see the world (while getting paid to do so) she joins the team catering to the world's highest paid, supercharged racing drivers on the Formula 1 Grand Prix circuit. Only trouble is, it's not long before she finds herself falling for one of the drivers and with him already having a girlfriend (a childhood sweetheart no less), surely it can only lead to one thing - further heartbreak.
With enough twists and turns - with one in particular that will have you quite literally gasping for breath - this is a highly enjoyable read. A real "paige" turner in fact. Plus if you were a fan of Johnny Be Good, then look out for the cameo appearances from Meg, Johnny and Christian, along with the revelation of just who the father of Meg's baby was! (KC)

---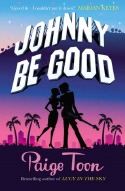 Johnny Be Good (2008)
Meg Stiles is on her way from London to LA, to act as British rock star Johnny Jefferson's personal assistant. Even though she prefers Kylie and had to Google her new boss, Meg finds - like the rest of the female population - she is unable to resist the gorgeous musician tatts and all (Robbie Williams, anyone?). Trouble is despite his actress girlfriend, Johnny can't resist the trappings of his sex, drugs and rock'n'roll lifestyle. As Meg hits red carpet events and band showcases courtesy of Johnny, she hangs out with his friend from home Christian, who is writing his biography. Is she going to be able to resist mixing business with pleasure?
A pure escapist story for all those who have ever dreamt of a poster boy falling into their arms. For fans of Toon's first book, Lucy in the Sky, watch out for the brief mention of Lucy and Nathan (Meg's ex-boyfriend Tom is Lucy's stepbrother).

---
Lucy in the Sky (2007)
Lucy is heading back to Sydney for the wedding of her best friend Molly and Sam, a guy Lucy has always had a crush on. As Lucy gets on a flight from Heathrow, she's gets a text message, supposedly from another woman claiming she's slept with Lucy's boyfriend James. After an excruciatingly long flight, James' excuses just don't add up - after all he's a lawyer who has a habit of stretching the truth. Enjoying herself back in her hometown, Lucy finds herself drawn to Sam's younger brother, Nathan, a laidback surfer. A first-class read with lots of humour.