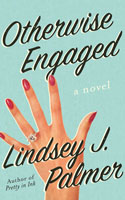 Otherwise Engaged, by Lindsey J. Palmer, is about a newly engaged couple who have to deal with the reappearance of their exes. The summary says: "Life is sweet for New Yorkers Molly and Gabe: They're young, in love, and newly engaged.
But when Gabe sells his first novel - a thinly-veiled retelling of his wild love affair with ex-girlfriend Talia - and it becomes a national sensation, Molly can't help but feel like the third wheel.
To make matters worse, Talia reappears in Gabe's life, eager to capitalize on the book's success and to rekindle what she had with Gabe... at least, that's how it seems to Molly. But of even more concern? Gabe doesn't seem concerned at all. Instead, he's delighting in his newfound fame and success.
Jealous, paranoid, and increasingly desperate, Molly starts to spin out of control. Her social life, work life, and love life all go to pieces. As fact and fiction, and past and present, begin to blur, Molly realises the only way out of this downward spiral is to fight her way back up. But what - if anything - will be left of her life and her relationship when she arrives?"
Otherwise Engaged is out in January 2019.
TEXT