OLIVIA GOLDSMITH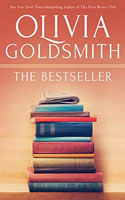 The Bestseller (1996)
This book is centred around New York publishing company Davis & Dash and its staff and stable of authors vying for this season's bestseller. Publishing heir Gerald needs money so is desperate for his own book to sell well. Editor-in-chief Pam will do anything to get her hands on a bestseller, and has the very able Emma as her assistant to dig out the promising manuscripts.
Bestselling romance writer Susann has moved house to try to find the magic again; college professor Daniel has enlisted his wife Judith to write his book; Opal has come to New York to get her late daughter's masterpiece published; and Camilla took herself off to Italy to write and found herself a generous patron to introduce her to NY publishing circles.
Chockful of villains, this is a gloriously gossipy tome about the book business and it's just as enjoyable all these years later.

---