NINA MANNING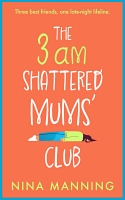 The 3am Shattered Mums' Club (2022)
This story centres around the friendship and support network that develops between three new mums messaging one another during those middle-of-the-night feeds.
Influencer Sophy is finding her body is taking its time to bounce back. She lives with property agent Jeff but even after the birth of their son Max, he seems reluctant to put her on the deeds of his house.
Mel has a tween daughter and now baby Skylar with the steadfast Daz. She is planning to return to her career as a burlesque dancer and singer but an incident early in her pregnancy has rattled her.
Aisha, partnered with Charley, is exhausted after having twin boys via a sperm donor and is uneasy about a stranger repeatedly hanging around on her street.
This was a lovely and relatable read about navigating the early days of motherhood, with the three women bonding over shared struggles as well as facing their own distinct problems.