NICOLE TROPE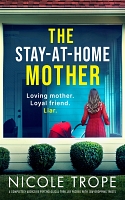 The Stay-at-Home Mother (2023)
The story begins with the intriguing opening of someone calling to ask, 'Why are you using a picture of my son on a missing children's website?'
Then we meet the two protagonists - Andrea who is pregnant and has a three-year-old son, Jack. Her family has just had to move into a rundown house on a well-to-do Sydney street because of her husband Terry's gambling debts.
Gabby lives across the road and is a doting mother to teen son Flynn who she makes a central part of her Facebook page on parenting advice. Her husband Richard is away working in the US and is not so keen on her sharing Flynn's life on social media.
Gabby immediately sees that the exhausted Andrea could use a helping hand with Jack. But can you trust someone you have just met?
This is a fantastic page-turner with an unreliable narrator, ominous tone and surprising end twist.

---