NICOLA MASTERS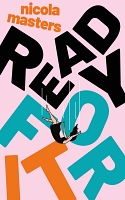 Ready For It (2023)
Natalie and Fiona are best friends and flatmates. But now Fiona is moving in with her boyfriend Matt, and Natalie needs to find another roomie to help pay the rent.
It's not the first time she's been left in the lurch by Fiona either. They had always dreamed of travelling overseas together but Fiona jumped on a plane with Matt instead.
As the women adjust to their new lives, they decide to pursue a career change. Natalie needs a higher paying job to pay the bills, while Fiona wants to leave behind the ice-cream parlour she's worked at since her teen years. The problem is they are both vying for the same position - can their friendship stand the competition?
This was a breezy read about how a friendship can be affected by hitting life stages at different times. The POV alternates at a rapid pace, which takes a bit to get used to. I'd also advise that you avoid reading the official blurb because it gives away far too much of the plot.